Die ersten Menschen - stream
An erotic mysterie
The first two humans on earth were in love. The third man killed the fourth. In Die ersten Menschen, the well-known Bible story of Kajin's murder of his brother is interpreted from a completely different angle.
Interview Sophie de Lint
Director Dutch National Opera
In many ways the upcoming opera season will be a time of new beginnings, as represented not only by Lorenzo Viotti starting his tenure as chief conductor but also by the great variety of projects on the programme. In the words of DNO director Sophie de Lint: 'More than ever, we're committed to exploring the urgency of opera.'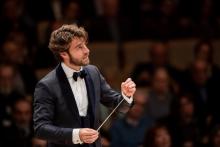 Dutch National Opera
Productions season 21/22
In the new season, the urgency of opera will be explored more than ever, according to director Sophie de Lint. View all productions of the 2021/2022 season.
Can't get enough of opera? Discover more than 2.584 hours of:
arias and scenes

behind-the-scenes videos

interviews & articles
Chorus of Dutch National Opera
The success of Dutch National Opera is largely due to its Chorus. The Chorus of Dutch National Opera consists of 60 singers and was awarded with the title Best Opera Chorus by Opernwelt in 2016. From the start of the 2021/2022 season, Lorenzo Viotti will succeed Ching Lien Wu as the Chorus' chief conductor. 
Furthermore, since some operas require a much larger chorus - sometimes up to 90 or 100 singers - Dutch National Opera also works with a large group of great freelancers.
Meet the members of our Chorus via the link below!
Children's chorus
Since 2016, Nieuw Vocaal Amsterdam (NVA) has been the regular children's choir partner of Dutch National Opera & Ballet (DNO&B); upcoming productions include Tosca, Turandot and Nutcracker & Mouse King. Together, DNO&B and NVA organise educational days during which children are trained for the opera profession.
The Dutch National Opera Studio
The Dutch National Opera Studio is a two-year programme in which seven young, talented singers and two répétiteurs are prepared for an international opera career. The Opera Studio combines workshops and coaching with a wide range of professional experiences.
biographies members opera studio
'This opera house belongs to all of us'
Sophie de Lint
About Dutch National Opera
Dutch National Opera creates and performs dramatic musical art, focusing on quality, diversity and innovation. This is expressed by taking a fresh approach to the opera classics, rediscovering repertoire that has seldom been performed and creating brand-new operas. Come and be inspired in our theatre, where you will be given a warm welcome.
The history of Dutch National Opera starts in 1965. On the next page we have listed a number of milestones.