History of Dutch National Opera
Discover the rich history of Dutch National Opera!
Der Rosenkavalier (Richard Strauss), which premiered on 17 November 1965 in the Congress Hall of the RAI in Amsterdam, is the first opera of the new foundation. It is also one of the two productions of the Dutch Opera Foundation in which Gré Brouwenstijn and Cristina Deutekom both sang.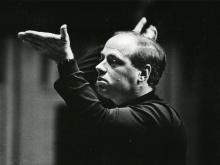 On 17 June, 1966, Verdi's opera Don Carlos will be premiered. Gré Brouwenstijn played the role of Elisabetta in this production. The musical direction is in the hands of Bernard Haitink (photo).
On 1 January, 1969, Nando Schellen (photo) is appointed as business director. Later that same year, intendant Maurice Huisman leaves the company.
The controversial Reconstruction - a morality, by a collective from Louis Andriessen, Hugo Claus, Reinbert de Leeuw, Misha Mengelberg, Harry Mulisch, Peter Schat and Jan van Vlijmen, premieres June 29th.
From the production In seinem Garten liebt don Perlimplín Belisa (Wolfgang Fortner), which premieres in 1971, up to the year 2000, Hans Vonk (photo), partly as chief conductor, conducts the number of 45 opera productions at DNO.
Hans de Roo becomes intendant. De Roo paved the way for the Dutch diva Cristina Deutekom and is credited with the 'discovery' of singers such as Catherine Malfitano, Gabriela Benackova, Neil Shicoff and Frederica von Stade, who would later become world-class operatic names.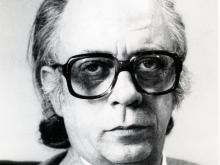 The Dutch Opera Foundation is awarded the Association of Dutch Theatre Critics Prize. The jury praises Hans de Roo's artistic policy during the previous five seasons.
Choir of the Dutch Opera Foundation
On 1 January, 1984, the Dutch Choir Foundation splits into the Dutch Chamber Choir and the Choir of the Dutch Opera Foundation: a private choir with the company, up to the present day. In the photo: the choir in I vespri Siciliani, premiered in October 1984.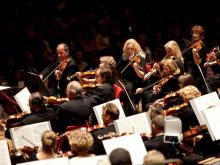 Netherlands Philharmonic Orchestra
In 1985 three existing orchestras were brought together in the newly founded Netherlands Philharmonic Orchestra. Since then, together with the Netherlands Chamber Orchestra, it has been responsible for the majority of DNO's productions.
Composer Jan van Vlijmen (photo) was appointed intendant of the Netherlands Opera Foundation on 1 August 1985. With a special evening in Theater Carré, Hans de Roo's farewell follows later in that season.
The 'Muziektheater' opens
In 1986 the Muziektheater (Music Theatre) on Waterloo Square is opened.
The Dutch Opera Foundation changes its name to De Nederlandse Opera (DNO) and moves from the Stadsschouwburg to the new Muziektheater building where, with Jan van Vlijmen as intendant and Hartmut Haenchen as music director, a new adventure begins.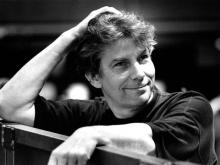 Hartmut Haenchen is principal conductor of the Dutch Opera and the Netherlands Philharmonic Orchestra. His interpretations of Strauss, Wagner and Mahler are highly praised. He will stay until 1999, after which he regularly returns as a guest conductor for Der Ring des Nibelungen, among others.
Truze Lodder is appointed administrative director. During her 25-year tenure, DNO grows into one of the world's prominent and trend-setting opera companies.
Pierre Audi is named artistic director of DNO. As a stage director at De Nederlandse Opera, Pierre Audi collaborates with visual artists such as Jannis Kounellis, Georg Baselitz and Karel Appel.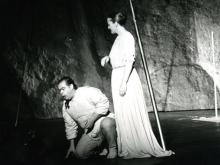 Pierre Audi's Monteverdi-cycle premieres. The cycle will be on stage regularly until 2007 and with that, put the baroque opera back in the spotlight.
Pierre Audi's staging of Der Ring des Nibelungen (Richard Wagner) is premiered this year. Audi's artistic partners for this cycle include George Tsypin (decor) and Jean Kalman (lighting).
Hartmut Haenchen concludes his career as chief-conductor. Edo de Waart becomes the new chief-conductor.
Ingo Metzmacher departs as chief conductor.
Pierre Audi accepts the first Johannes Vermeer Prize in October. Culture Minister Ronald Plasterk has instigated the prize to recognize and reward exceptional artistic talent.
Marc Albrecht is the new chief conductor of De Nederlandse Opera as well as of the Netherlands Philharmonic Orchestra|Netherlands Chamber Orchestra when Het Muziektheater Amsterdam celebrates its twenty-fifth anniversary.
The new organisation kicks off on 1 January, but without a common name for the moment. Els van der Plas is the managing director, Ted Brandsen is the director of ballet and Pierre Audi is the director of opera.
Through a merger, the Dutch Opera, Dutch National Ballet and Het Muziektheater Amsterdam are taking the final step towards a national top institute for opera and ballet. Els van der Plas becomes general director, Ted Brandsen director of Dutch National Ballet and Pierre Audi director of De Nederlandse Opera.
Pierre Audi is, at the time of the merge to Dutch National Opera & Ballet, artistic director opera for 25 years. At that moment, he has made 38 new stagings for the company and is responsible for 180 new productions on stage as company manager.
Dutch National Opera & Ballet
On 31 December 2012, The Amsterdam Music Theatre, De Nederlandse Opera and Dutch National Ballet sign the agreement that will lead to a legal merger of the three art institutions.
Dutch National Opera 50th anniversary
On 24 December 2014 it was exactly 50 years ago that Dutch National Opera was founded.
New director Sophie de Lint
On 1 September 2018 Pierre Audi bid farewell to Dutch National Opera and made way for the new opera director Sophie de Lint.
Lorenzo Viotti appointed as Chief Conductor
The Netherlands Philharmonic Orchestra and Dutch National Opera have appointed a new Chief Conductor: Lorenzo Viotti. The 29-year-old conductor with Swiss and French dual nationality took over in the 2021-2022 season.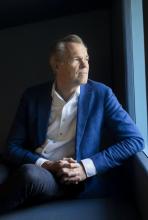 Stijn Schoonderwoerd has taken up the position of managing director of Dutch National Opera & Ballet since February 2020. Previously, he was the managing director of Dutch National Ballet and co-director of The Amsterdam Music Theatre, which both merged into what is today Dutch National Opera & Ballet.