Dutch National Opera Studio
Young talent prepares for an international career
About Dutch National Opera Studio
Dutch National Opera Studio is a two-year traineeship for seven singers and to répétiteurs, which aims to prepare young talent for an international opera career. The Opera Studio combines workshops and coaching with a wide range of professional experiences. Artistic leader is the international renowned soprano Rosemary Joshua.
The studio members 2021-2022
The Opera Studio Members of season 2021-2022 are:
Claire Antoine (soprano), Inna Demenkova (soprano), Ian Castro (tenor), Chanhee Cho (bass), Maya Gour (mezzo-soprano), Maksym Nazarenko (baritone) en Adam Rogala (répétiteur).
L'elisir d'amore
On Sunday 23 May members of Dutch National Opera will sing the leading roles in Donizetti's L'elisir d'amore. In a contemporary version by director Marcos Darbyshire, Donizetti's comic opera tells a coming of age story about exploring your own identity and losing your innocence. 
The performance will be livestreamed for free on Sunday 23 May and will remain available for three months after that.
Watch L'elisir d'amore here

Audition 2021/2022
The audition application proces for singers for the Dutch National Opera Studio season 2021 - 2022 is now closed.
The application proces for repetiteurs is not available yet. Please check this website regularly for the latest updates.
Auditions for Dutch National Opera Studio
Inside the Opera Studio: Workshopping Mozart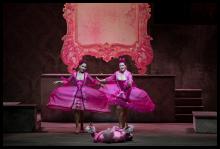 That the Opera Studio is a true breeding ground for opera stars, is proven by the alumni of the Studio themselves! Read more about the productions in which the alumni of season 2020/2021 will shine in the years to come!