Photo: Joep Hijwegen
Dutch National Opera Studio
Young talent prepares for an international career
About Dutch National Opera Studio
Dutch National Opera Studio is a two-year traineeship for six singers and one répétiteur, which aims to prepare young talent for an international opera career. The Opera Studio combines workshops and coaching with a wide range of professional experiences. Artistic leader is the international renowned soprano Rosemary Joshua.
The studio members 2021-2022
The Opera Studio Members of season 2021-2022 are:
Elenora Hu (soprano), Claire Antoine (soprano), Inna Demenkova (soprano), Ian Castro (tenor), Chanhee Cho (bass), Maya Gour (mezzo-soprano), Maksym Nazarenko (baritone) en Adam Rogala (répétiteur).
Path to Passion - World Opera Day 2021
Audition 2022/2023
The audition application process for singers for the Dutch National Opera Studio season 2022-2023 is now closed.
Auditions for Dutch National Opera Studio
Inside the Opera Studio: Workshopping Mozart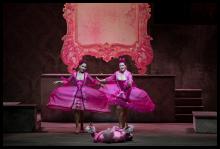 That the Opera Studio is a true breeding ground for opera stars, is proven by the alumni of the Studio themselves! Read more about the productions in which the alumni of season 2020/2021 will shine in the years to come!