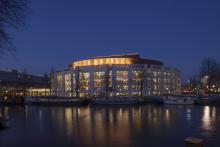 Plan your visit
We are excited to welcome you to our theatre. This page contains the most important details regarding your visit to Dutch National Opera & Ballet.
Everything you need to know about your visit
A summary of the most important information:
Arrive on time
The doors will open one hour before curtain-up. Please be at the main entrance at least 30 minutes before curtain-up. After the doors have opened, please take your seats in the auditorium as soon as possible. Please note that the doors close after the performance has begun. You will then no longer be able to gain access to the foyer and the performance.

Coats and bags
Our cloakroom is open. We ask you not to bring any bags larger than A4 format. There are free masks available at the cloakroom. Please ask one of our cloakroom staff.
Seating
From February 2022 onwards, the performances will have assigned seating. You can book by rank and seat number.

Paying safely
In our theater, we handle a pin only policy, so we will be able to serve you faster and saver. At the bar, the store and the ticket office, you can pay contactless.
Maximum amount of visitors
From 18 February onwards, we are allowed to sell 100% of our capacity again, which consists of approximately 1600 visitors.

Pre-performance talks
Dutch National Opera & Ballet introduces most of its performances with a pre-performance talk, which will enhances your theatre experience by providing background information. The talks are in Dutch and are free for ticket holders.
Your visit and COVID-19
Masks
You are of course allowed to wear a mask if it makes you feel more safe. If you forget your mask, you may receive one for free at the cloakroom. Please request a mask from a member of our cloakroom staff.
Hygiene
Upon entering, you can disinfect your hands using the hand pumps with disinfection gel located in our theatre's foyer.
Ventilation
The air circulating throughout the building is 100% outside air. No air is reused (recirculation). Because of this ventilation strategy, it might feel slightly colder in our theatre than usual. Please take this into account when choosing your clothes.
Frequently asked questions
Do you still have questions? We've compiled a collection of frequently asked questions regarding your visit, tickets and other programmes and activities.