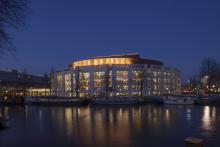 Plan your visit
We are excited to welcome you to our theatre. This page contains the most important details regarding your visit to Dutch National Opera & Ballet.
Everything you need to know about your visit
A summary of the most important information:
Arrive on time
Main Stage: for a performance on the Main Stage, the theatre's main entrance opens two hours before curtain-up. You can then first enter the Foyer Studio Boekman. The entrance to the Foyer Main Stage opens one hour before curtain-up.

Studio Boekman: for performances in Studio Boekman only, the main entrance opens one hour before curtain-up. One can then enter the Foyer Studio Boekman.
Please keep in mind that the doors will close once the performance begins. You will thereafter be unable to enter the foyer or watch the performance.

Coats and bags
Coats and bags can be stored in the cloakrooms at both the Main Stage and Studio Boekman. We politely request that guests not bring luggage larger than A4 in size.
Seating
eating is assigned for performances on the Main Stage. You can book by rank and seat number. Seating is not assigned for performances in Studio Boekman. You can choose a free seat when the hall doors open.

Paying safely
In our theatre, we handle a pin-only policy, so we will be able to serve you faster and safer. At the bar, the store and the ticket office, you can pay contactless.
Maximum amount of visitors
The Main Stage of Dutch National Opera & Ballet can accommodate approximately 1600 guests. Studio Boekman has a seating capacity of 177 guests.

Pre-performance talks
An introduction with background information will take place 45 minutes before the start of the Main Stage performances, which offers interesting perspectives on the performance, allowing you to get even more out of your theatre visit. Introductions are in Dutch and are free for all ticket holders. There are no introductions before the performances at Studio Boekman.
Frequently asked questions
Do you still have questions? We've compiled a collection of frequently asked questions regarding your visit, tickets and other programmes and activities.