Children and families
The magic of opera and ballet, for everyone
We love to share our passion for opera and ballet with as many people as possible. We create performances in which children, teenagers and families can experience the magic of ballet and opera. We also organise many other youth and family activities: from theatrical tours throughout our theatre to projects in which children can shine on stage themselves.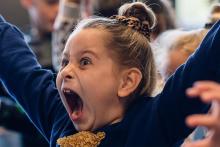 Kindermuziekweek 2023 in Dutch National Opera & Ballet
Feel the magic of opera and ballet
During the Kindermuziekweek 2023 from 24 March to 2 April, there will be several active and musical workshops at Dutch National Opera & Ballet.
Performances for families
Musical theatre for all ages
The enchantment of dance, music and stories, for our youngest audience.
Opera Heroes
Shining on stage yourself
Perfect for a children's birthday party
Workshops and tours
Playing, singing and dancing
Take an opera or ballet workshop or discover the magical world behind the scenes during on of our tours. 
Jump
The fan club of Dutch National Ballet
The Jump web page offers fun facts, interviews, photos and videos about the world behind Dutch National Ballet.