Secondary education
The power of song and dance
To let students experience the magic of song and dance, we have a rich offer for schools. From a visit to a performance in our theatre to workshops in the classroom.
Workshops, projects & tours
An active introduction to opera and ballet
A diverse offer of projects, workshops and tours.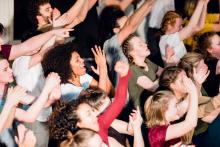 Performances
Well prepared for a visit to our theatre
As a part of CKV (cultural and artistic education) students can visit an opera or ballet performance at an advantageous price. We provide everything for a good preparation.
Online performances and learning materials
Everything you need to discover opera and ballet online
Special online learning materials are developed around performances and projects. These learning materials can easily be used in the classroom or from home.