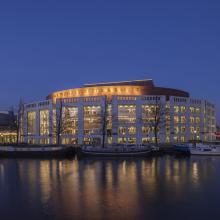 Frequently asked questions
Find answers to your questions about your visit, tickets and other programmes and activities.
Lifting of corona measures from 10 March 2023
Following the government's decision on 10 March 2023, the previous corona measures that applied to our visitors were also lifted.
Other
Where can I find Dutch National Opera & Ballet

For the address and the easiest way to get to the theatre, visit this page. 
I am a teacher. What do you organise for my pupils?

Too many to mention. You can find more information about our activities for students here. 
How do I become a Friend of Dutch National Opera & Ballet?

We really appreciate your Friendship! If you would like more information about registration or about activities for Friends, please visit this page. 
Which browser is recommended for using this site?

The website is best viewed with a recent version of Chrome, Firefox or Safari; if you are using a Windows PC, you can of course also use Edge. Our website can also be visited using a mobile phone.
How do I keep up to date with news about Dutch National Opera & Ballet?

The Dutch National Opera & Ballet sends out a newsletter on a regular basis. You can also stay informed through social media.
Where can I find the visitor terms?
Is your question not listed above? Than please contact us. We will answer your question as soon as possible, but in any case within five working days.