Photo: Marta Syrko
Location
Dutch National Opera & Ballet, Main Stage
Running time
1:45, no interval
Psychological thriller on the opera stage
The new opera Innocence recounts a topical tale of guilt, forgiveness and being haunted for life by traumatic events. Dutch National Opera presents the latest work by the Finnish composer Kaija Saariaho, one of the most frequently performed contemporary composers in the world. The libretto is by compatriot and bestselling author Sofi Oksanen and dramaturg Aleksi Barrière, a specialist of new music theatre and multilingual dramaturgy.
Set from the opera Innocence | © Jean Louis Ferdinandez
Performance information
Opera in five acts and an epilogue
The main singing language is English, and additional languages are Finnish, Czech, French, Romanian, Swedish, German, Spanish and Greek
Libretto  Sofi Oksanen (original Finnish) & Aleksi Barrière (dramaturgy & multilingual version)
Musical direction  Elena Schwarz
Stage direction and dramaturgy  Simon Stone
Set design  Chloe Lamford
Costume design  Mel Page
Lighting design  James Farncombe
Choreography  Arco Renz
The Waitress (Tereza)  Jenny Carlstedt
The Mother-in-Law (Patricia)  Lenneke Ruiten
The Father-in-Law (Henrik)  Thomas Oliemans
The Bride (Stela)  Lilian Farahani
The Bridegroom (Tuomas)  Markus Nykänen
The Priest  Frederik Bergman
The Teacher  Lucy Shelton
Markéta (student 1)  Vilma Jää
Lily (student 2)  My Johansson
Iris (student 3)  Julie Hega
Anton (student 4) Rowan Kievits
Jerónimo (student 5)  Camilo Delgado Díaz
Alexia (student 6)  Olga Heikkilä
Chorus of Dutch National Opera
Chorus Master  Edward Ananian-Cooper
Residentie Orkest The Hague
Composition commission and co-production  by Dutch National Opera, Festival d'Aix-en-Provence, Royal Opera House (London), Finnish National Opera and Ballet (Helsinki) and San Francisco Opera
In collaboration with The Metropolitan Opera (New York)
Ticket prices
Check out the ticket prices per price category via the link below. Youths up to 35 can attend this performance for only € 25,00 (including booking fee), regardless of which price category is ordered.
Order tickets
Loading tickets...
Innocence - Behind the Scenes

Photo: ILKKA SAASTAMOINEN
Operatic psychological thriller about the repercussions of a school shooting
Psychologische operathriller over de nasleep van een 'school shooting'
Photo: Marco Borggreve
Lilian Farahani and Thomas Oliemans about Innocence
Lilian Farahani and Thomas Oliemans about Innocence
Scenes from Innocence by Finnish National Opera (2022) | Photo: Ilkka Saastamoinen
Foto: Ilkka Saastamoinen
Photo: Ilkka Saastamoinen
Photo: Ilkka Saastamoinen
Photo: Ilkka Saastamoinen
Photo: Ilkka Saastamoinen

19 April
"This is a truly great opera for our troubled times ... What composer Kaija Saariaho, with her librettist Sof Oksanen and dramaturg Aleksi Barrière, has done in Innocence (premiered at Aix-en-Provence in 2021, now making its Covent Garden debut) is to create a searing and subtle story of grief and guilt"
22 April
"Saariaho's work, powerful as it is, lacks that glimmer of a smile, those tears of laughter which heighten tragedy. As far as it goes, it offers thoughtful, disturbing rewards. This staging has no weak links."

9 July
Saariaho wrote insanely good music to accompany it, and gave a lead role to Vilma Jää, a Finnish folklore singer who as the late Markéta deploys her voice sharply, high and precisely, sending shivers down the spine.

5 July
"Innocence is yet another contemporary opera that shows every minute how alive the genre is, and how opera, in particular, can put (current) themes under an emotional magnifying glass."
19 April
Right from the opening beats, you can feel the dark, growling tension. ... Yet thanks to her good focus, her [Farahani] voice carries just fine and we hear every detail of her performance. ... In Amsterdam, she [Farahani] will repeat the role of The Bride in the coming season at Dutch National Opera, but I hope to see and hear her in larger roles as well because she is a singer who has a lot of beauty to offer.
Rehearsals Innocence - Dutch National Opera (2023) | Photos: Ben van Duin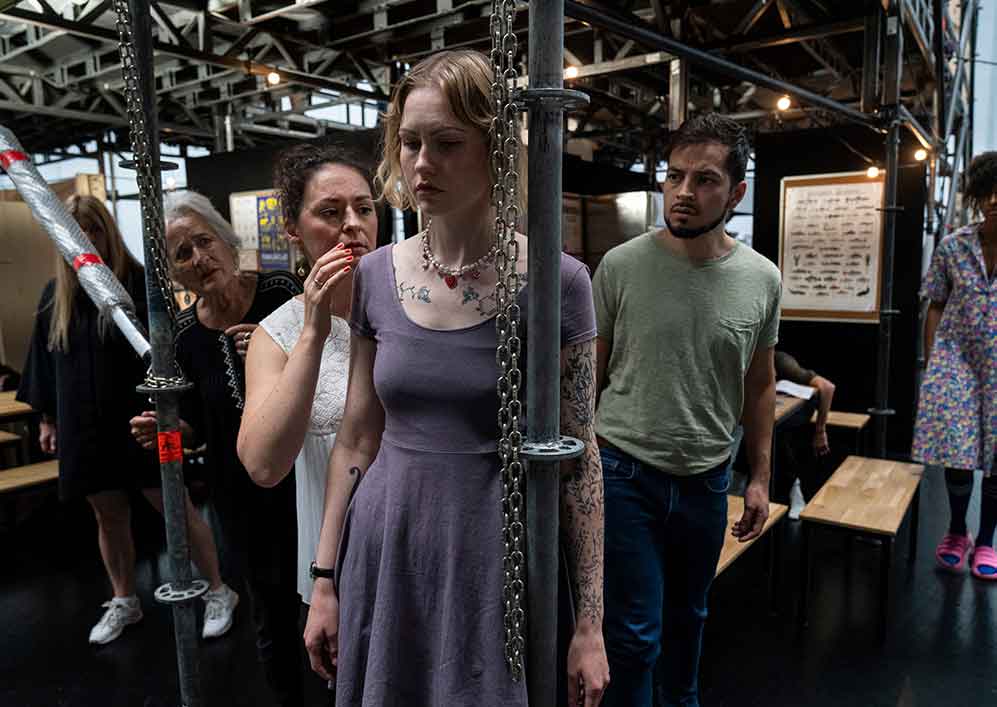 Residentie Orkest The Hague
Residentie Orkest The Hague was founded over a century ago and is one of the major acclaimed symphony orchestras  in the Netherlands. The innovative orchestra, led by chief  conductor Anja Bihlmaier, plays at leading venues in the Netherlands and abroad. Recent productions at Dutch National Opera involving the Residentie Orkest are Nabucco, Denis & Katya and Blue. This season, the orchestra will  accompany the opera Innocence.

Can't get enough of opera? Discover more than 2.584 hours of:
arias and scenes

behind-the-scenes videos

interviews & articles