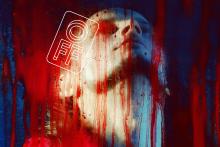 Photo: Marta Syrko
WORLD PREMIERE COLLABORATION DNO AND HNB
Location
Dutch National Opera & Ballet, Main Stage
Running time
1:55, incl. 1 interval
Jocasta's Line
Oedipus Rex / Antigone
Ancient tragedy in contemporary form
The ill-fated family line of the Theban queen Jocasta resonates between two works brought together under the direction and choreography of Wayne McGregor: Stravinsky's Oedipus Rex (1927) and Samy Moussa's new work Antigone (2023).
Photo: Marta Syrko
Performance information
Choreography and stage direction  Wayne McGregor
Music Samy Moussa
Musical direction  Erik Nielsen
Set and costume design  Vicki Mortimer
Lighting design  Lucy Carter
Video design  Akhila Krishnan
Dancers  Dutch National Ballet
Oedipus Rex
Opera-oratorio
Sung in Latin
Libretto Jean Cocteau, based on Sophocles' Oedipus Rex
Oedipus  Sean Panikkar
Jocaste  Sarah Connolly
Creon  Bastiaan Everink
Tiresias  Rafal Siwek
Le Berger  Linard Vrielink
Le Messager  Frederik Bergman
Antigone
World premiere
Sung in Ancient Greek, composed for women's chorus and orchestra
Libretto
Samy Moussa in collaboration with Niall Potter
Based on texts by Aeschylus, Apollodorus, Empedocles, Euripides, Philostratus of Lemnos and Sophocles
Netherlands Philharmonic Orchestra
Chorus of Dutch National Opera
Chorus master Edward Ananian-Cooper
Co-commission and co-production with Den Norske Opera (Oslo). Antigone: Co-commission with Festival de Lanaudière (Canada).
Ticket prices
Check out the ticket prices per price category via the link below. Youths up to 35 can attend this performance for only €25,00 (including booking fee), regardless of which price category is ordered.
Order tickets
Loading tickets...
Photo: Pål Hansen
Wayne McGregor on Jocasta's Line
Wayne McGregor, director and choreographer, on Oedipus Rex / Antigone
Netherlands Philharmonic Orchestra
The Netherlands Philharmonic Orchestra and Netherlands Chamber Orchestra have been the main orchestral partners of Dutch National Opera for over thirty years. They are regarded as among the best opera orchestras in the world. The Concertgebouw in Amsterdam is the main regular stage for their concerts.
Photo: Melle Meivogel
Introduction
An introduction will take place 45 minutes before the start of this performance, during which an expert will give background information and offer interesting perspectives on the performance, allowing you to get even more out of your theatre visit. The introductions are given in Dutch. They can be visited for free and without reservation, by showing your ticket for the performance.
Introduction Jocasta's Line by: TBA
Location: Souterrain