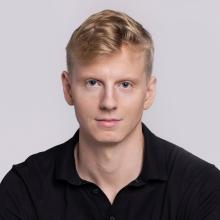 Photo: Jan Willem Kaldenbach
Rémy Catalan grew up in Amsterdam and studied at the École de danse de l'Opéra national de Paris. After completing his studies in Paris, he returned to Amsterdam for an additional year of training at the Dutch National Ballet Academy. In 2011, Rémy joined Dutch National Ballet as an adspirant. He was then promoted to élève in 2012 and became a member of the corps de ballet in 2013.   
 In 2016, he danced for a year with Opéra National de Bordeaux and, as a soloist, with the State Ballet of Georgia in Tbilisi. At the end of 2017, Rémy returned to Dutch National Ballet, where he was promoted to coryphée in 2021. 
CV
Place of birth: 
Amsterdam (the Netherlands)
---
With Dutch National Ballet since: 
2011
---
Career with Dutch National Ballet: 
coryphée (2021), corps de ballet (2013), élève (2012), aspirant (2011)
---
Training: 
The Paris Opera Ballet School (Paris, France), National Ballet Academy (Amsterdam, the Netherlands)
---