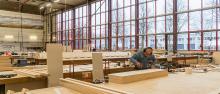 Production Workshop
Where new worlds are built
The day-to-day work of the Production Workshop comprises sketching, drawing, building, welding, sawing and painting. There's nothing they can't build, which means audiences can look forward to beautiful mise-en-scènes time and time again.
Big, bigger, biggest
Established in 1985, the Production Workshop is the only department of Dutch National Opera & Ballet to be located outside the city centre. The large warehouse in Amsterdam-Zuidoost offers ample space to develop, build and store huge set pieces. There are also several offices and a large storage area for costumes and props. The department has 40 permanent staff, but the number of workstations can be doubled if required. The Production Workshop also looks after the sets of many past productions, which are stored in warehouses elsewhere in the Netherlands.

The departments
The Production Workshop is home to several specialised departments which are responsible for the entire process of developing, creating and managing sets. These include a design department, draughting office, construction shop, carpentry department, painting department and costume workroom; as well as departments for logistics and set and costume management
Costume storage
 A costume shop like you have never seen before! The costumes hang from hooks on the ceiling and in long rows on the shelves. Arranged by production - from Aïda to Swan Lake. If nothing really fits anymore, some costumes are sold. There is always a great deal of interest in such sales, as there is no shortage of original outfits here.
Many crafts under one roof
What do they all do? Using the results of the test build and a scale model of the stage, carpenters, welders and painters work hard to build the final construction. Whatever the set design, every production must meet the most stringent requirements when it comes to logistics. This is because every set must be easy to assemble and disassemble – if only so it can be transported to the theatre; but also, because once there, it will have to make way for rehearsals and other performances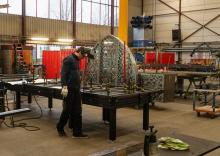 The craft of theatre: Metalworking and construction
Video: The art of painting
Every set is built in the Production Workshop of Dutch National Opera & Ballet. In this video, you can see how painter Vanesse Kluge brings the city of Florence to life on a gigantic canvas. This process took several weeks.
Did you know that ...
The majority of Dutch National Opera's sets are stored in Noordoostpolder, in a warehouse some 12,000 square metres in size.
A birds-eye view of the Production Workshop
Sustainability
The building that houses the Production Workshop is owned by the Dutch National Opera & Ballet Foundation, which has resolved to make the building carbon-neutral as soon as possible. In terms of set production, too, the Production Workshop is also working to pioneer the development of sustainable sets in close collaboration with other leading opera organisations in Europe.
Take a look at other departments