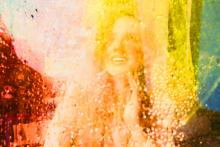 Photo: Marta Syrko
Operetta Land online programme
The story
Follow the link below to read the story of Operetta Land.
Interview with Steef de Jong
There is a great deal of beauty in the world we live in, but also misery. We can make the world a somewhat better place with the help of fantasy and imagination (and operetta), says Steef de Jong.
Paulien Cornelisse on the texts for Operetta Land
She is well known in the Netherlands for her books and columns on language, her novel De verwarde cavia (The Confused Guinea Pig), her comedy shows and her television appearances. Operetta Land was her first libretto. "I hadn't realised how much the operetta music would stick in my head."
Interview with the conductor Aldert Vermeulen
Aldert Vermeulen is the conductor for Operetta Land, leading the young musicians of the National Youth Orchestra of the Netherlands. He talks to us about precision, finesse and the various operetta traditions reflected in this production.
Operetta: a brief history
Are the glory days of operetta over for good? The grant for Hoofdstad Operette, The Netherlands' only remaining professional operetta company, was terminated in 2000. And what was once a flourishing amateur circuit has become a shadow of its former self: whereas more than a hundred operetta societies used to be found throughout The Netherlands, only a few are still operating today. Even the operetta society Thalia in Amsterdam, where star soprano Cristina Deutekom started her career, closed in 2022. We present a brief history of the rise and (temporary?) fall of operetta.
Introducing...
Steef de Jong is accompanied on stage by an enthusiastic cast of singers. Here, they introduce themselves and their characters.
Become a Friend of Dutch National opera
Friends of Dutch National Opera support the singers and creators of our company. That friendship is indispensable to them and we are happy to do something in return. For Opera Friends, we organise exclusive activities behind the scenes and online. You will receive our Friends magazine, have priority in ticket sales and a 10% discount in the Dutch National Opera & Ballet shop.