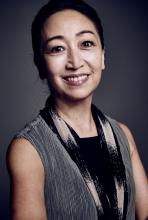 Sebastien Galtier
Caroline Sayo Iura
Ballet master
Caroline Sayo Iura was born in Los Angeles, California, and received her training from Irina Kosmovska, former soloist of the Ballet Russe de Monte Carlo.
At the age of twelve, she was awarded a scholarship by the Ford Foundation in New York to spend the following two summers studying at the American Ballet Theatre School with Valentina Pereyaslavic, Patricia Wilde, and others. Iura joined Washington Ballet at the age of just sixteen. She was spotted a year later in New York by Rudi van Dantzig, then artistic director of Dutch National Ballet.
In 1978, Iura came to the Netherlands and joined Dutch National Ballet, where she ascended through the ranks in the following years, to become a principal dancer in 1986. She received acclaim as a dancer for her interpretations of the leading roles in all the big classics and in the Balanchine repertoire. She also danced in works and new creations by prominent choreographers like Hans van Manen, Toer van Schayk, Rudi van Dantzig, Wayne Eagling, Ted Brandsen, Krzysztof Pastor and Jan Linkens.
In 1981, Iura won the silver medal at the first International Ballet Competition in France, and one year later she received the Incentive Award from the Friends of Dutch National Ballet. In 1990, she was presented with the Alexandra Radius Prize by the namesake herself, and in 1997 she received the Merit Award from Stichting Dansersfonds '79.
In 2002, Iura left Dutch National Ballet, after 24 years as a dancer. She went on to work as a regular guest ballet mistress, teacher and rehearsal director with Dutch National Ballet, Scapino Ballet Rotterdam, English National Ballet and other international dance companies. Since 2017, she has held the position of ballet master with Dutch National Ballet, whereby she regularly assists Ernst Meisner with the Junior Company.
Season 2023-2024
From 3 February to 17 March 2024, the Dutch National Ballet's Junior Company will tour Ten through the Netherlands to celebrate both the ten-year anniversary of the company and that of its artistic coordinator Ernst Meisner.