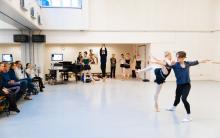 Photo: Altin Kaftira
Calendar Friends activities
Dutch National Ballet
The Friends of Dutch National Ballet contribute to new productions, costumes, sets and the development of our dancers. That is why they have a special advantage and are welcome to attend special behind-the-scenes activities.
Attend daily training sessions
Tuesday 18 April and Friday 2 June 2023
Friends are welcome to attend a private training of the dancers in one of our ballet studios. You can sign up for either date.
Location: Dutch National Opera & Ballet

18 April: 11:00 - 12:15

2 June: 10:00 - 11:15 and 11:00 - 12:15

Free admission
Young Talent Event
Friday 6 October 2023
We are pleased to introduce the new young talents of the Junior Company and Dutch National Opera Studio to you.
Friday 6 October: 15:30-19:00 
Unfortunately, the Friends' magazine listed the wrong date. The above information is correct.
Dress rehearsal Giselle
Wednesday 11 October 2023
We would like to offer you the opportunity to attend the dress rehearsal of this beautiful classical-romantic ballet. 
Location: National Opera & Ballet, main entrance, Great Hall

Wednesday 11 October: 20.15 - 22.45 hours

Price: €25
Black Achievement Month
Sunday 15 October 2023
Dutch National Ballet shows a programme of diverse choreography during Black Achievement Month.
Location: Dutch National Opera & Ballet Foyer

Sunday 15 October: 20.00 - 21.00 hours 

Price: €17.00, guests welcome
Ballet diner
Monday 16 October 2023
Exclusive to Giving circles Soloists and Prima Ballerinas
Our biggest donors are welcome to attend this spectacular behind-the-scenes dinner at our theatre, with our dancers of course not missing. 
Monday 16 October: 6 p.m. - 10.30 p.m.
By invitation
Alexandra Radius & Han Ebbelaar
Sunday 12 November 2023
The royal dancing couple of the Netherlands will look back on their lives and dance careers, based on the book Levensdans (Dance of Life). Of course, you will have the opportunity to ask questions and buy a signed copy of the book. 
Sunday 12 November: 4 p.m. - 6 p.m.

Price: €10, guests welcome
Ballet in the Alps
Thursday 23 - Tuesday 28 November 2023
Switzerland, the Roman Helvetia, is well-known for its breathtaking Alpine scenery. Those who trek through Switzerland's mountain pass walk in the footsteps of Caesar, Goethe, and Napoleon. It owes its rich ballet landscape to the influx of dancers and choreographers during the First and Second World Wars. Switzerland now has seven ballet companies and renowned choreographers such as Heinz Spoerli, Martin Schläpfer, and Christian Spuck.
This ballet tour takes you to the two largest Helvetic ballet companies, as well as renowned ballet schools and the contemporary dance scene.
Folk dance class Raymonda
Friday 1 December 2023
You are welcome to a private rehearsal for the folk dance scene from the ballet Raymonda.
Location: National Opera & Ballet, via artist entrance

Friday, December 1: 5:00 PM - 6:00 PM

Price: €12.50
Behind the scenes Tour
Sunday 18 June 2023
New Friends are welcome to a behind-the-scenes tour of Dutch National Ballet. After the tour, you will attend part of the dancers' daily training in one of the ballet studios.
Location: Dutch National Opera & Ballet

10:30 - 13:00

Free admission
Interested in attending one of these activities?
Friends, Family Friends, Golden Friends and members of the Giving Circles have exclusive access to the Friends activities.