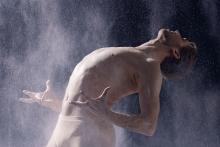 Photo: Marta Syrko
Messa da Requiem online programme
Cast sheet - dancers
The cast sheet for Messa da Requiem will be posted on this page one day before the performance and will be available until one day after the performance.
Cast sheet Saturday 25 February 2023
Messa da Requiem - text
Follow the link below to read the original Requiem text and its English translation.
'Verdi's Requiem moves you to the depths of your soul'
Director and choreographer Christian Spuck about Messa da Requiem.
'I want to bring out the beauty of Verdi's music'
A conversation with Eun Sun Kim.
Support Dutch National Opera & Ballet
Contributions from Friends of Dutch National Opera and Dutch National Ballet ensure we are able to create new productions, costumes and sets, and help our singers and dancers develop and evolve in their career. This is why our Friends are given certain benefits and advantages. For instance, they have access to exclusive backstage tours, master classes and opera or ballet excursions. They also receive a Friends Magazine three times a year, featuring background information and articles on the companies and productions.