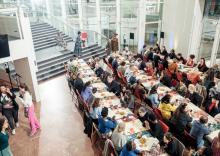 Photo: Jakob van Vliet
Keti Koti Table at Dutch National Opera & Ballet
22 May 2023
On Tuesday evening, 16 May, more than ninety individuals attended the Keti Koti Table at Dutch National Opera & Ballet. The gathering featured a joint dinner and dialogue about Dutch slavery history and the colonial past.
The Keti Koti Table, made possible by the similarly named foundation, is a new tradition that reflects on dealing with the effects of Dutch slavery history and colonial past. This is accomplished by sharing personal experiences, memories, and emotions in relation to the theme of 'dignity and its significance in our everyday lives'.
During the dialogue, a joint dinner reminiscent of the slavery history was served. Rituals referring to slavery were performed at the start and end of the gathering. The choir Fri Yeye sang the lamentations and freedom songs that were sung at the plantations during the time of slavery.
We look back on a special evening full of inspiring conversation and new insights and would like to thank Team Keti Koti Table and all attendees for making this edition of the Keti Koti Table possible.
Photo: Jakob van Vliet