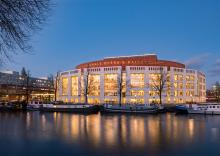 Photo: Ronald Tilleman
Dutch National Opera & Ballet recognised for sustainability again
19 December 2022
Sustainability in every way is extremely important to Dutch National Opera & Ballet (DNO&B). That's why we are proud to have been recognised again by BREEAM. BREEAM is an independent, international quality mark that employs a set approach to make the sustainability of buildings measurable and visible. The bar is set very high. DNO&B was the first theatre in the Netherlands to achieve two BREEAM-NL certificates in 2019. It was recently announced that we have again received certification in all three parts: asset, management, and in-use. This is an exceptional achievement. 
DNO&B is housed in a complicated 1980s building where the options for sustainability are not always obvious. BREEAM examines various areas of sustainability, such as procurement policy, transportation planning, what we do to make the working and reception environments healthier and more accessible for employees and the public, and how we ensure more biodiversity. For example, at the Production Workshop, we have a new garden for a sparrow colony and a bee colony on the roof of the theatre. DNO&B also collaborates with other organisations in the Plantage neighbourhood in Amsterdam on issues such as efficient waste separation, and we collect waste with an electric boat in the canals. And, with each renovation and modification in and around the building, sustainability is a priority.
BREEAM-NL assesses a project on nine various sustainability categories: management, health and wellbeing, energy, transport, water, materials, waste, land use and ecology, and pollution. Each category contributes part of the total score. That overall score is expressed in a rating, which in our case is 'GOOD'. With BREEAM, DNO&B continues to take on the challenge of assessing and developing sustainability inside the organisation in the broadest sense against an independent worldwide benchmark, now and in the future.