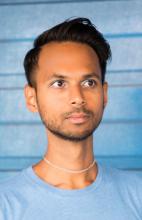 Manoj Kamps | Conductor, theatre maker and composer
Manoj Kamps conducted Handel's Giulio Cesare at Opera North, the semi-staged premiere of MILA, Great Sorcerer by Andrea Clearfield at the Prototype Festival in New York, the premiere of Calliope Tsoupaki's Bosch Requiem (November Music and Muziekgebouw Amsterdam), Stravinsky's Le sacre du printemps (Nederlands Studenten Orkest), The Fairy Queen with the Nederlandse Reisopera (a co-production with De Veenfabriek), the chamber opera Be With Me Now at the Festival d'Aix-en-Provence and the premiere of Hilda Paredes' Harriet (Amsterdam, Mexico, Lyon and Antwerp).
They conducted the BBC Philharmonic, the Brussels Philharmonic, and the Ulster Orchestra, among others. They also work regularly with Asko|Schönberg, Cappella Amsterdam and the Netherlands Chamber Choir. From 2015 to 2017 they were Junior Fellow in Orchestral Conducting at the Royal Northern College of Music in Manchester (mentored by Mark Elder), and they have participated in masterclasses with Bernard Haitink and with Carlo Rizzi.
Foto: Judith Tielemans