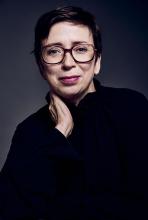 Peggy Olislaegers
Associate on Research and Development
Peggy Olislaegers (1966) is a leading artistic and strategic adviser to choreographers and performing arts institutes in Europe. She made her name during her directorship of the Dutch Dance Days (2010-2016), when she was also co-initiator of the innovative European projects Act Your Age, Pivot Dance and Performing Gender. From 2015 to 2019, she was Artistic Associate with Rambert, one of the best-known contemporary dance companies in Great Britain.
In 2017, Olislaegers worked intensively with Ted Brandsen, artistic director of Dutch National Ballet, on the first edition of the international ballet conference Positioning Ballet, initiated by Dutch National Ballet, and co-designed and led by Olislaegers. Since then, she has been involved as an external expert with various innovative projects by Dutch National Ballet. In February 2019, the company appointed her Associate on Research and Development.
Olislaegers trained at the Tilburg Academy of Dance (now part of Fontys University of Applied Sciences). She has broad experience in nearly every aspect of the performing arts, from performer and maker to programmer and managing director. In Europe, she is regarded as a pioneer in dance dramaturgy. She is known for her wide knowledge of and sensitivity to new developments in the performing arts, and she advises directors from the worlds of hiphop, modern dance and ballet. She works with choreographer Joseph Toonga (Just Us Dance Theatre, United Kingdom) and advises Alida Dors/Theater Rotterdam and choreographer and festival director Omar Rajeh (Lebanon). Until the end of 2021, she will continue to assist the team of Theaterfestival Boulevard in Den Bosch as interim director, and prepare the organisation for its next director.