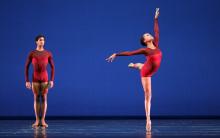 Photo: Hans Gerritsen
Location
Dutch National Opera & Ballet, Studio Boekman
Tickets
€15; Stadspas (City Pass), CJP and students €12,50
Black Achievement Month: Dutch National Ballet
Since its first edition, Dutch National Ballet has taken part in Black Achievement Month. This year, it is showing in Dancing Diversity a programme with a trio of choreographies by choreographer and Young Creative Associate of Dutch National Ballet Sedrig Verwoert in Studio Boekman. Among those performing are Sebia Plantefève-Castryck and Davi Ramos, both of whom have previously served as Black Achievement Month ambassadors.
Photo: Davi Ramos and Sebia Plantefève-Castryck in Embers | © Hans Gerritsen
Programme
Slightly damp in a misty street
Choreography Sedrig Verwoert
Music R.T.C.
The hard rock will seem soft to us
Choreography Sedrig Verwoert
Music Franz Schubert
The Ritual
Choreography Sedrig Verwoert
Music Phantom Wizard (Isha Forster) & Ranie Ribeiro
Order tickets
Loading tickets...
Black Achievement Month
Throughout October, the Black Achievement Month Foundation celebrates the distinguished contributions of people with African ancestry to the world, particularly to Dutch society. Thus, in collaboration with other partners across the country, Black Achievement Month highlights the talents of diverse people. For a significant number of them, this country is an important focal point in their development. Individuals with African ancestry have taken root here and can be found in a range of disciplines in society. All these talents and their achievements deserve to be brought to the attention of the widest and most diverse audience possible.