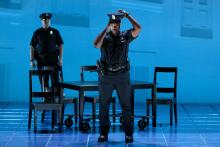 Photo: Karli Cadel/The Glimmerglass Festival
Context programming
Celebrating Diversity – An evening dedicated to the opera Blue
Black Achievement Month
Location
Dutch National Opera & Ballet, Foyer
Running time
1:15, no interval
Blue
Inspired by today's America, Blue is an intimate portrait of a black family in Harlem, New York, torn apart by the devastating effects of systemic racism. The opera by award-winning composer Jeanine Tesori to a libretto by Tazewell Thompson about police brutality is deeply rooted in the present, but it does not only centre on the drama of black families in turbulent times. The opera also emphasises the strength, support and connection that the black community finds in each other.
Photo: opera singer Kenneth Kellogg in Blue | © Karli Cadel/The Glimmerglass Festival
Programme
During this foyer evening, a wide variety of guests will look ahead to this performance, which will have its European premiere at Dutch National Opera in November. They will talk about the diversity of black identity and the different themes in this opera. In addition to the dialogue, there will also be room for music, of course. The singers featured in Blue will perform some of the songs from the performance during the evening in the foyer of Dutch National Opera & Ballet.
Sosha Duysker will be hosting this event. Most of the talks during this evening will be in English.
The following artists/speakers will be present:
librettist & director Blue Tazewell Thompson 
-
bass, 'the Father' Blue Kenneth Kellogg,
soprano, 'the Mother' Blue Aundi Marie Moore
-
Y)Our Eyes Only
choreographer  Gregory 'Shaggy' Albertzoon
dancers Etienne Groeneveld, Merci Philips, Uhr'lice Rosario, Jada Singodikromo en Darion Thompson 
-
former Dutch police officer Péris J. Conrad 
MC, singer songwriter, spoken word artist and dancer/choreographer Guillermo Armand Blinker | OTION
-
MBO Theaterschool - Acteursopleiding
Jasper den Dikken, Ata Yilmaz & Coen Kuijper
A selection from the performances and the various conversations
A selection from the performances and the various conversations held during Celebrating Diversity: Blue on 16 October 2022 can be seen and listened to in the following video.
Celebrating Diversity: Blue


Blue - a striking portrait of a black family
Dutch National Opera presents the European premiere of Blue, an opera by American Tony Award-winning composer Jeanine Tesori and American librettist and theatre director Tazewell Thompson. Inspired by events in contemporary America as well as by Black literature, this opera captures the anguish of a community that finds strength and comfort in togetherness in dark times.
'Blue was my personal letter to the world''

---

Tazewell Thomspon, librettist and director Blue
Black Achievement Month
During the month of October, the Black Achievement Month Foundation will present the special contributions of people with African roots to the world and to Dutch society in particular. For a significant number of them, this country is an important focal point in their development. Individuals with African ancestry have taken root here and can be found in a range of disciplines in society. All these talents and their achievements deserve to be brought to the attention of the widest and most diverse audience possible.