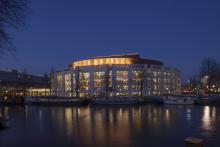 Statement regarding Dutch National Opera & Ballet's partnership with Houthoff
3 March 2022
It is extremely important to Dutch National Opera & Ballet that we collaborate with partners who share our values. One of these partners is the law firm Houthoff – who is also our main sponsor – and with whom we have a longstanding and good relationship. 
We entered into this partnership in the knowledge that all law firms, including Houthoff, have a wide range of very diverse clients; it is one of the most fundamental aspects of our legal system that everyone has access to legal advice. 
In light of the war in Ukraine, we have closely followed the recent coverage of our main sponsor's client portfolio.
Houthoff has since announced it will be ending its relationship with the Russian federation as well as with any affiliated persons and companies due to Russia's recent actions in Ukraine, which can be classed as acts of war. Houthoff will also not be taking on any new cases for these parties. The law firm had already previously expressed its shock at the situation in Ukraine, condemning the war as a violation of international law and human rights.
We recognize ourselves in Houthoff's unequivocal position on the war in Ukraine as well as the steps the firm is now taking, as both these factors are of the utmost importance for our collaboration.