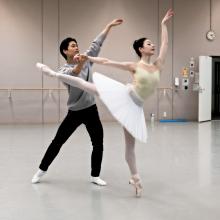 Dutch National Ballet presents own version of Raymonda
14 September 2021
Dutch National Ballet is preparing for a brand new, original production. In the spring of 2022, it presents its own version of ballet classic Raymonda. It is the first time that a Dutch ballet company performs an original version of this ballet.
Raymonda is a grand ballet that, together with Swan Lake, Sleeping Beauty, Giselle and The Nutcracker and The Mouse King tops the list of 19th-century classics. The ballet tells the story of a defenseless princess who, right before her wedding with the noble prince Jean de Brienne, is abducted by the barbaric Saracean leader Abd al-Rahman. Similarly to the other ballet classics performed at Dutch National Ballet, the company presents Raymonda in a new guise, in order to match the production with the 21st-century zeitgeist. Therefore, the libretto is changed radically: eventually, Raymonda does not marry the Western white savior who saves her from the cruel oriental man, but chooses the noble, civilized Saracen leader. In this way, the ballet leaves behind the stereotypical world views that are unacceptable anno 2021, and offers the female main character the right of self-determination.
Adjunct-artistic director Rachel Beaujean is in charge of the classical choreography, originally created by the great Marius Petipa at the Tsarist court of St. Petersburg in the 19th century. Although Beaujean aspired to stick to this version as much as possible, the new dramaturgy generated some important musical and choreographical changes. For instance, Beaujean made additional choreographies in order to create new dramatic transitions. Dutch National Ballet's version of Raymonda can therefore be compared with "the restoration of the Concertgebouw with a new wing" (Beaujean in Trouw).
Do you want to admire this modern classic yourself? The production runs from the 11th of February until the 2nd of April. Tickets available from the 2nd of November onwards. Read more here or click on the button below to be the first to receive updates about Raymonda!