Dutch National Ballet
Raymonda
Marius Petipa / production and additional choreography Rachel Beaujean
Dates
This performance was to be seen in Apr 2022
Location
Dutch National Opera & Ballet, Auditorium
Running time
2:40, incl. 2 intermissions
The ultimate ballet classic, now in the Netherlands!
For the first time in the Netherlands, we are presenting our very own production of Marius Petipa's legendary ballet Raymonda – a model of classical ballet technique, famed for its wonderful character dances. Associate artistic director Rachel Beaujean – assisted by a team that includes Ted Brandsen and Grigori Tchitcherine – has created a brand-new version of this Russian masterpiece. Its choreographic splendour will be retained, but the story will have an exciting new twist.
In season 2023/2024, Dutch National Ballet will perform Raymonda again. More information and tickets can be found via the link below.
Credits
Choreography  Marius Petipa
Production, concept and additional choreography  Rachel Beaujean
Music  Aleksandr Glazoenov
Costume and set design  Jérôme Kaplan
Lighting design James F. Ingalls 
Assistant for research, production development and Mazurka, Pas Hongrois and Romanesca rehearsals  Grigori Tchitcherine
Fight choreography  Youval Kuipers
Music preparation and supervision  Boris Gruzin
Musical advice  Matthew Rowe, Olga Khoziainova
Music engraving and editing  Lars Payne
Dramaturgic advice  Janine Brogt
Grand Pas Classique rehearsals  Guillaume Graffin, Larissa Lezhnina
Ballet masters  Larissa Lezhnina, Guillaume Graffin, Judy Maelor Thomas, Charlotte Chapellier, Sandrine Leroy, Jozef Varga
With cooperation of  students and pupils of the Dutch National Ballet Academy
Rehearsals and guidance ballet students  Dario Elia, Amanda Beck
Musical accompaniment  Dutch National Ballet Orchestra conducted by Vello Pähn
Scene Raymonda | Photo: Altin Kaftira
Scene Raymonda | Photo: Altin Kaftira
Scene Raymonda | Photo: Altin Kaftira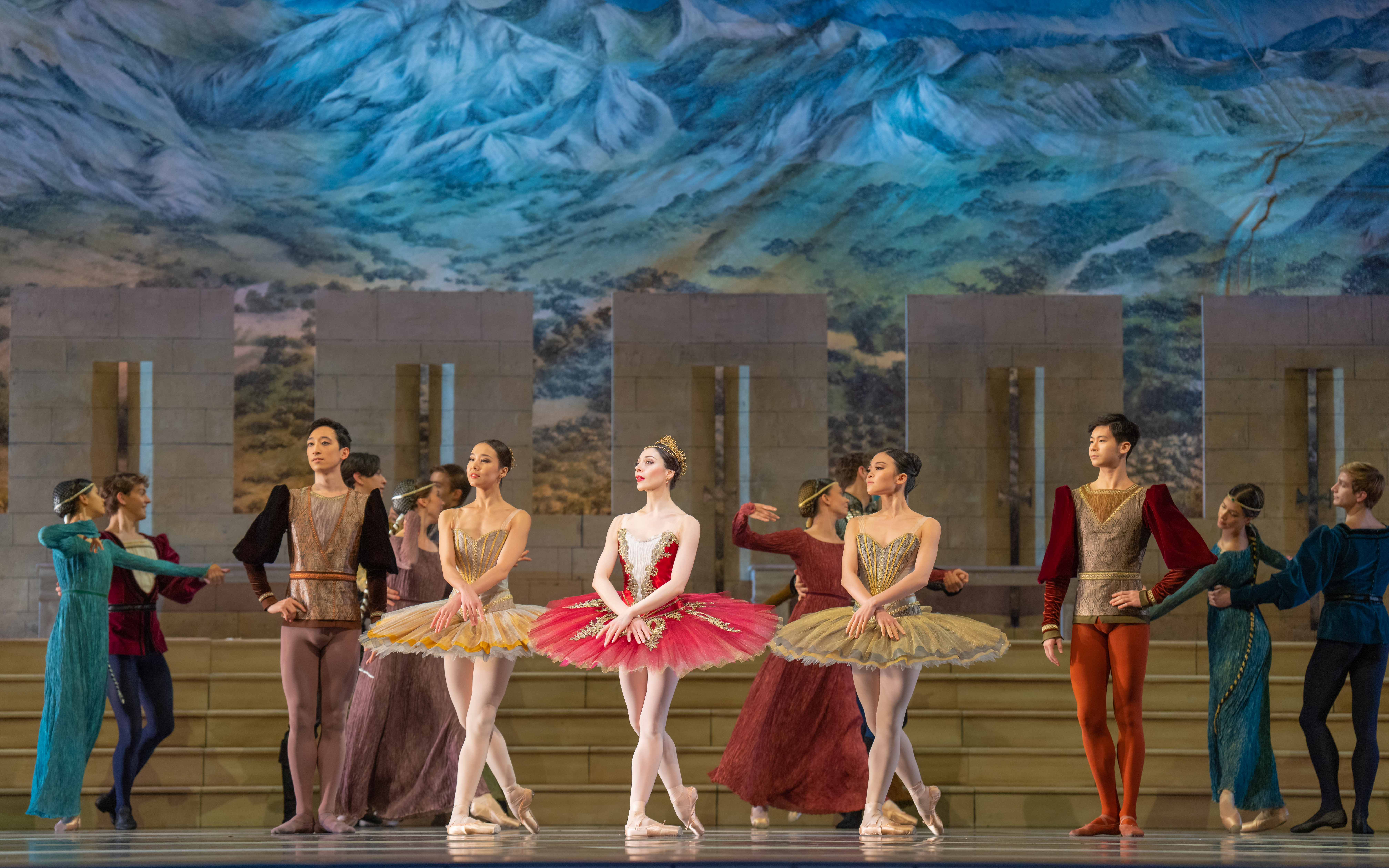 Scene Raymonda | Photo: Altin Kaftira
Scene Raymonda | Photo: Altin Kaftira
Rave reviews
In the media

4 April
Everything came together in perfect balance in this magnificent production of Raymonda, from the glorious music to the exceptional dancers

4 April
With its innovative choreography, stunning sets and spectacular performances, this production is a gem to be treasured in the company's repertoire.

12 April
When it comes to 'refreshing' classics, Dutch National Opera & Ballet reaches a new peak with Raymonda.
8 April
Pure magic happens when you bring Makhateli and Young (Abd al-Rahman) on stage together. They don't just dance, they breathe dance and do so with such conviction and passion that the fun really springs from it.

4 April
(...) in the meantime, Beaujean and her team have delivered a valuable piece of repertoire that Dutch National Ballet can can be proud of and that a broad contemporary audience can enjoy (...).

7 April
With this Raymonda, Dutch National Ballet shows that the company belongs to the absolute world top.
The Making of Raymonda #1
The Making of Raymonda #2

The Making of Raymonda #3
The Making of Raymonda #4
The Making of Raymonda #5

Raymonda - podcast part 1
In this first introductory podcast (in Dutch) about Raymonda, Astrid van Leeuwen talks to associate artistic director Rachel Beaujean about her re-interpretation of this famous masterpiece by Marius Petipa. She discusses all the research involved in this process and the challenges it posed. Rachel jokes: "I have been pregnant with this 'child' for four years. It's driving everyone at home crazy. There is only this one thing that counts at the moment: Raymonda, Raymonda, Raymonda."
Raymonda - podcast part 2
In this second podcast (in English) about Raymonda, Astrid van Leeuwen talks to principals Maia Makhateli and Young Gyu Choi about their lead roles in this new full-length production by Dutch National Ballet. Maia: "Running a marathon is nothing compared to dancing the role of Raymonda."
Click on the link below to be the first to receive updates on the brand new ballet production Raymonda.

'I am really looking forward to my debut as Raymonda'
Principal dancer Maia Makhateli:
"Raymonda is one of the purest of all the classical ballets and therefore one of my absolute favourites. We've already been working on it throughout the past corona year. Rachel is keeping the style and choreography, but adding changes to make it more relevant to today. The production is going to be magnificent and I'm really looking forward to this Dutch premiere."
Cast of soloists
Follow the link below to see which soloists will dance in the various performances of Raymonda. Please note that casting is subject to change right up to the performance.
Read more about Raymonda
What do you do nowadays with a story about a frail princess who is saved from bloodthirsty Saracens by courtly knights? Read Trouw's article (in Dutch) about Raymonda here. 
Dutch National Ballet Orchestra
conducted by Vello Pähn
This orchestra has proudly accompanied its partners, Dutch National Ballet and Nederlands Dans Theater, since its inception in 1965. This form of collaboration is unique in the Netherlands.
With thanks to | Partner Raymonda
Can't get enough of Ballet? Discover more than 3,487 hours of:
ballet classes

behind-the-scenes videos

interviews & articles

fragments

games & quizzes