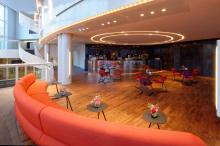 Spaces
Discover the spaces Dutch National Opera & Ballet offers for your event.

Auditorium
1600 seats over three levels. Advanced audio-/visual equipment and creatives create a magical event experience!
Foyers and Entresol
De foyers offer a Panoramic view over the Amstel River and the 'Magere Brug' (Skinny Bridge). Spread over three levels, there is room for groups of up to 1600 guests. During an event on the Entresol, between the foyer at hall level and the first balcony, you have a wonderful view of the entrance area, the Amstel River and the foyers.
Odeonzaal
A private room of 325 m2 suitable for various events such as presentations, dinners, workshops and life style events!
VIP Room
An exclusive space on first balcony level for small receptions, meet & greets, meetings or dinners.
Studios
The studios of Dutch National and Dutch National Opera give you a unique peek behind the scenes.
Decoratelier
An industrial venue in Amsterdam Zuidoost. This is where all the decor is made!