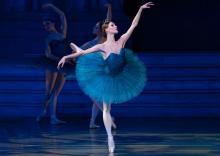 Olga Smirnova in Raymonda | Photo: Altin Kaftira
Olga Smirnova voted 'Dancer of the Year' 2022
28 November 2022
Olga Smirnova, a principal dancer with Dutch National Ballet since March 2022, has been voted 'Dancer of the Year' 2022 by the readers of the leading international dance magazine Dance Europe. Dance Europe is the biggest dance magazine in the world. It is published every two months and its contributors are professional dancers and ex-dancers.
From a shortlist of twelve nominated prominent dancers from all over the world, Smirnova received the most votes and was awarded the readers' prize, ahead of colleagues from companies like American Ballet Theatre, The Royal Ballet, Ballet de l'Opéra national de Paris, Staatsballett Berlin and Stuttgarter Ballett. The nominees included Young Gyu Choi, another principal dancer with Dutch National Ballet.
The list of nominees was compiled by a jury of twelve editors who write for Dance Europe and other international publications. The jury put together a Critics' Choice list of twelve dancers who had made the greatest impression on them in the 2021-2022 dance season.
From the jury's report
Olga Smirnova was nominated by dance critic Valentina Bonelli because she had once again proved herself "one of the greatest ballerinas of her generation." In the classic Raymonda, in the version by Rachel Beaujean that premiered in April 2022, she showed her "delicate beauty, strong technique and intense character." At the same time, her "versatility is emerging strongly" in contemporary ballets, including those by Hans van Manen.
Emma Kauldhar, Editor/Photographer Dance Europe: "It was a great pleasure to interview Olga Smirnova for Dance Europe as she is a ballerina I have admired for many years. It has been a great privilege to follow her career and to photograph her in the Bolshoi's London seasons, dancing with Les Ballets de Monte Carlo and, in recent months, in her performances with Dutch National Ballet. Not only is she an exquisite dancer, she has a strong personality and should be applauded for having the courage to speak out against her country."
Ted Brandsen, Director of Dutch National Ballet: "Olga Smirnova is an exceptional artist and an extraordinary human being. She followed her heart and her conscience when Russia invaded Ukraine and left her family, her company and her country to start an uncertain future. I am happy that we have been able to provide a new home for Olga here in Amsterdam-  it is beyond wonderful to know her, to be able to work with her and to watch her dance. It is wonderful that she has been nominated Dancer of The Year by Dance Europe, a title she so richly deserves."