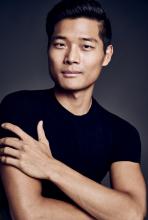 The South Korean dancer Young Gyu Choi joined Dutch National Ballet in 2011 as a member of the corps de ballet. In 2013, he was promoted no less than twice: first to coryphée and later in the year to soloist. He then danced leading roles in Don Quixote and Cinderella, among others. On the first of January 2016, immediately after his debut as the prince in The Nutcracker and The Mouse King, he was promoted to principal.
On his mother's initiative, he started dancing at the age of eight. "I wasn't immediately enthusiastic, but after only a few lessons, I was captivated by the combination of music and movement." When he was 11, the family moved to Seoul, where Young had a tough study at the ballet school of the National Institute for the Gifted in Arts. "Everything always had to be perfect, every detail was tinkered with endlessly, but in hindsight I'm just glad I have such a solid foundation now."
Immediately after reaching the final of the Prix de Lausanne in 2006, Young transferred to the Tanz Akademie in Zurich, where he studied for two years. He then temporarily returned to Korea; although he already knew by then that he wanted to dance in Europe, he still had to get out from under military service. He succeeded initially by studying at Sun Hwa Arts School for another period, and finally for good by winning the gold medal at the Youth America Grand Prix in New York in 2009.
Young has more major awards to his name. At the Youth America Grand Prix, he already won a silver medal in 2005 and a bronze in 2007. In 2006, he took second place at the prestigious International Ballet Competition in Varna, and in 2010 he won the award there for 'best performance in a contemporary choreography'. He also won first prize at the Boston International Competition in 2010. In Amsterdam, he was awarded the Alexandra Radius Prize in 2017 and in October 2022 he won the Swan for 'Most Impressive Dance Performance' from the Association of Theatre and Concert Hall Directors for his performance in Toer van Schayk's 7e Symfonie. From the British dance magazine Dance Europe, Young received the honourable mention 'Outstanding performance by a male dancer' in 2020, 2021 and 2022. In 2022, the magazine also nominated him, alongside eleven other top international soloists, for the Dancer of the Year Award.
Before coming to the Netherlands, Young danced briefly with the National Ballet of Korea and Universal Ballet Korea, both in Seoul. Nowadays, he regularly performs as a guest soloist with leading international companies.
CV
With Dutch National Ballet since: 
2011
---
Place of birth: 
Seoul (South Korea)
---
Career with Dutch National Ballet: 
Principal (2016), Soloist (2013), coryphée (2013), corps de ballet (2011)
---
Previously danced with: 
Korean National Ballet (Seoul, South Korea), Universal Ballet (Seoul, South Korea)
---
Training: 
Sunhwa Arts School (Seoul, South Korea), Tanz Akademie Zürich (Zürich, Switzerland).
---
Awards: 
2022, Critic's Choice, 'Outstanding performance by a male dancer'; nominated 'Dancer of the Year Award'

2022, Swan for 'Most Impressive Dance Performance' 

2021, Critic's Choice, Outstanding performance by a male dancer'

2020, Critic's Choice, 'Outstanding performance by a male dancer'

2017, Alexandra Radius Award

2010, Boston International Competition, 1st

2010, Ballet Competition (Varna, Bulgaria), 1st

2007, Youth America Grand Prix (New York City, United States), 1st

2006, Internationale Balletcompetitie, Varna

2005, Youth America Grand Prix (New York City, Verenigde Staten), 2nd
---