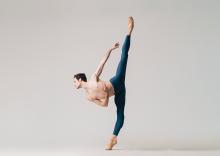 Jacopo Tissi | Photo: Darian Volkova
New principal dancer Jacopo Tissi, promotions 23/24 season and new business manager DNB
22 August 2023
Today is the first day at work for the dancers of Dutch National Ballet. They include the globally acclaimed dancer Jacopo Tissi. He left the Bolshoi Ballet at the start of 2022 to briefly return to Teatro alla Scala as a guest performer. However, as of this season he has chosen to continue his career at DNB in Amsterdam. Tissi will be making his debut on 12 October as Albrecht in Giselle. His fellow dancers in this ballet include his former Bolshoi colleague Olga Smirnova.
Michiel Nannen is joining DNB this season as the new Business Manager. In addition to his day-to-day management tasks, he will be working on the further national and international development of the ballet company.
Today saw the announcement too of the promotions within the company and the new members of the Junior Company.
Jacopo Tissi
Jacopo Tissi was born in northern Italy. At the age of ten, he started dance classes at the Teatro alla Scala Academy in Milan. After graduating from the Academy with distinction in 2014, he joined the Wiener Staatsballett. Just over a year later, Tissi returned to northern Italy to join the corps de ballet of the Balletto del Teatro alla Scala in the 2015/2016 season. In 2017, he moved to the Bolshoi Ballet, where he worked with Makhar Vaziev as Ballet Director and was guided by Alexander Vetrov . Tissi was the first Italian dancer ever to be accepted by the Bolshoi. The move was successful too: Tissi was immediately promoted to Leading Soloist in his first season at the Bolshoi and became a Principal Dancer not much later. Last summer, in collaboration with Art Works Production, Jacopo Tissi has put together his own ballet programme, Past Forward, which was shown at galas and in sold-out theatres in Italy. The programme, in which several international ballet stars participated, included classical and neoclassical choreographies as well as contemporary and even new works. After Olga Smirnova and Victor Caixeta, Tissi is the third dancer to choose the HNB after leaving Russia. 
Ted Brandsen: "Jacopo Tissi is a fantastic dancer with impressive physicality, very strong technique, a profound musical understanding and a natural stage presence. There are good reasons why he is seen as one of the most promising classical ballet dancers around. I've known Jacopo for some years and I'm delighted he has chosen to make Amsterdam his new home after leaving the Bolshoi Ballet. I'm looking forward to working with him."
Jacopo Tissi: "I've always followed Dutch National Ballet with great interest. The company is internationally renowned and presents a repertoire with a wide variety, including classical ballets as well as modern choreographies. I find it important to mention the presence of the resident choreographer Hans Van Manen and the legacy of his ballets, which I greatly admire. I've had the chance to see the efficient facilities and the organisation of the company; the work environment is something that is very important to a dancer. After my important experience at the Bolshoi and a very productive time last year, I wanted to join Dutch National Ballet to pursue my artistic path, in the belief that it can be the place for me to continue growing as an artist and as a person."
Michiel Nannen
Michiel Nannen is Dutch National Ballet's new Business Manager as of this season. He has previously held this position at ICK Dans Amsterdam and Jakop Ahlbom Company, and most recently, until 1 July, he was the Business Director at Theater Oostpool. He has also had a variety of jobs in the private sector. 
Ted Brandsen: "I've known and been following Michel for some time and I'm really looking forward to collaborating with him. Michiel is a strong business manager and administrator with wide experience in managing theatrical and dance companies. He is also an inspiring and entrepreneurial individual who is passionate about dance. I am fully expecting him to make a major contribution to the further development of Dutch National Ballet, and indeed DNO&B as a whole." 
Michiel Nannen: "Dutch National Ballet enjoys worldwide renown as a leading dance company capable of combining outstanding professionalism with respect for tradition while remaining open to innovation. I'm really excited to be able to help DNB develop further and I'm looking forward to working with the entire DNO&B organisation."
Promoted dancers at DNB in 23/24
The following dancers have been promoted this season, as of 1 August:
Elisabeth Tonev: promotion from Grand Sujet to Soloist

Davi Ramos: promotion from Coryphée to Grand Sujet

Arianna Maldini: promotion from Corps de Ballet to Coryphée

Alexandria Marx: promotion from Corps de Ballet to Coryphée

Dingkai Bai: promotion from Corps de Ballet to Coryphée

Skya Powney: promotion from JC 1 to Élève
See all the dancers of Dutch National Ballet
New Junior Company members
Dutch National Ballet considers nurturing talent to be supremely important. We can now announce the new dancers joining our Junior Company. What is more, the Junior Company will be celebrating its tenth anniversary this year. This season's programme therefore includes Ten, a production to mark this milestone, in February/March 2024. The new first-years are: Ella Kolpakov, Frédérique Meewis, Ana Luísa Negrão, Sangwon Park, Hà Nhi Trân, Aafke Wolles, Alexander Alvarez, Patrik Benák, Vincent Fell and Vincent Vivet.