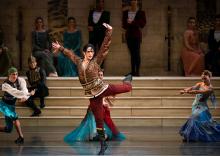 Photo: Michel Schnater
Giorgi Potskhishvili winner of the Alexandra Radius Prize 2023
15 September 2023
Soloist Giorgi Potskhishvili is the winner of the Alexandra Radius Prize 2023. Last Saturday, during the premiere performance of Four Temperaments, the prize was presented to him by Alexandra Radius herself.
The Alexandra Radius Prize is an initiative of the Friends of Dutch National Ballet and is presented annually to the dancer of Dutch National Ballet who has distinguished themselves most remarkably in the past dance season. The prize comprises a sum of €4000 and an artwork by Humphrey Bennet. This year, the Alexandra Radius Prize was awarded for the 34th time.
Jury comments
According to the jury, they "voted unanimously for the Georgian dancer Giorgi Potskhishvili, who joined the Junior Company in 2020, and now, just three years later, is a soloist with Dutch National Ballet." They also wrote on Potskhishvili: "In the past season, Giorgi has shown us that he has developed into an extremely competent dancer who simply merits recognition. Giorgi – who was originally trained in Georgian folk dancing and only later turned his focus on ballet – combines a striking, very charismatic stage personality with the ability to excel in a variety of dance styles."
Read the full jury report here.
This year's Alexandra Radius Prize jury comprised: namesake Alexandra Radius (former principal with Dutch National Ballet), Alexander Zhembrovskyy (former principal with Dutch National Ballet), Astrid van Leeuwen (dance journalist and publicist), Frederik Redelé (board member of the Dutch National Opera & Ballet Fund), Michèle Bruineman (board member of My Muse & Me) and Pauline Vereijken (Young Patron of Dutch National Ballet).
Response
Potskhishvili response to winning the Alexandra Radius Prijs was the following: "I am extremely grateful to Alexandra and to the jury for this incredible recognition. Their belief in me means the world! It's truly an honour to be part of this amazing history alongside the talented dancers who have received this prize before. Seeing my name among theirs is a dream come true!"
Giorgi Potskhishvili
Giorgi Potskhishvili joined Dutch National Ballet's Junior Company in 2020 and joined the main company as an élève within one year. In the past years, he was promoted no less than three times: to coryphée in 2022 – skipping the corps de ballet – and to grand sujet in May of that same year. Last April, he was promoted to soloist, immediately following his debut in the role of Prince Siegfried in Swan Lake.
You can read a detailed biography of Giorgi Potskhishvili here.