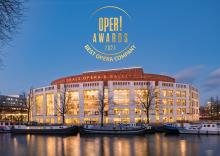 Photo: Ronald Tilleman
Dutch National Opera named 'Best Opera Company 2023'
21 November 2023
Dutch National Opera has been honoured with the prestigious title of 'Best Opera Company 2023' by the international jury of the OPER! AWARDS. On 29 January 2024 the German magazine OPER! will present this award during a festive ceremony at Dutch National Opera & Ballet in Amsterdam. Through this award, the international opera community shows its appreciation for the artistic course taken by Dutch National Opera under the leadership of director Sophie de Lint.
'A home for the city and an indispensable player'
"Under the leadership of Sophie de Lint, the Dutch National Opera in Amsterdam demonstrates, in an exemplary way, how an opera house can be relevant and gain support in a diverse, urban society. Sophisticated projects and a well-thought-out approach bring people of different origins, backgrounds and interests together under the same roof at Waterlooplein, where the theatre is based. At the same time, DNO's core identity as an opera house remains paramount in the programming and audience experience, firmly anchoring the art form in the future.
The excellent selection of artists underpins a programming of rarely performed operas, classics and impactful world premieres making every new production a true experience of significant artistic importance. Dutch National Opera is a home for the city and at the same time an indispensable player within the international opera world."
Grateful
In response to this news, Sophie de Lint says: "We are extremely proud to receive this prestigious award. There are many people involved in creating our programme, so this award belongs to all our great colleagues, artists and partners we work with. We see the prize primarily as an encouragement to continue working hard on the place of opera in today's and tomorrow's society. Sustainability in all its aspects is a crucial theme for us. We will also continue to look for new makers within the context of opera who inspire us with their sounds and stories and further enrich our art form. In short, there is still a lot to do!"