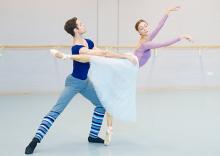 Photo: Altin Kaftira
Celebrate World Ballet Day 2023 with Dutch National Ballet!
1 November 2023
Today is World Ballet Day! Renowned companies from all over the world celebrate the art of dance and provide ballet lovers with a unique insight into their world. This year, Dutch National Ballet is once again happy to contribute to this special day, with a Giselle-themed video stream.
To celebrate World Ballet Day, Dutch National Ballet allows an exclusive behind-the-scenes-look: using Giselle as an example, it will show what a day with a ballet company is actually like – and what goes into preparing for such a classic.
In a YouTube stream various settings will be broadcast: ballet classes and rehearsals in the studio, behind-the-scenes footage of a performance, sneak peeks in our costume workshops and interviews with the makers and dancers. Among the speakers are associate artistic director Rachel Beaujean and principal dancers Olga Smirnova and Jacopo Tissi.
The stream will be available from 4pm, via this link!