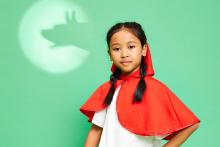 Photo: Michiel Spijkers
Location
Dutch National Opera & Ballet, Boekmanzaal
Running time
0:45, no intermission
Things are not what they seem (6+)
Dangerous, greedy, cunning, and dishonest: this is most likely the wolf you've read about in fairy tales. But what if he were allowed to have a say? Is he really such a scoundrel, or perhaps just unlucky?
Performance information
Composition Vasco Mendonça
Libretto  Gonçalo M. Tavares
Stage direction Inne Goris
Musical direction Alphonse Cemin
Dramaturgy Willem Bruls
Scenography Stef Stessel
Costume design Lotte Boonstra
Costume assistance Eli Verkeyn, Stefania Assandri
The Wolf Arturo den Hartog
The Hunter Leonie van Rheden (o.a.)
The Girl Sabra el Bahri Khatri (o.a.)
Musical performance SPECTRA (percussion, electric guitar, bass clarinet & cello)
Co-production with LOD muziektheater (Gent) and LU.CA
– Teatro Luís de Camões (Lisbon)
School performances  Private matinee performances will be given especially to schools.
Youth opera (6+)
Sung in Dutch
Family opera in the autumn break
Ticket prices
Adults: € 12,50

Children aged 16 and under: € 10,00
All prices are exclusive of booking fees.
Order tickets
Loading tickets...
Can't get enough of opera? Discover more than 2.584 hours of:
arias and scenes

behind-the-scenes videos

interviews & articles