What is the Young Patrons Circle?
The Young Patrons Circle is an international group of supporters of Dutch National Opera & Ballet. The circle offers exclusive looks behind the scenes and brings you closer to the magic of opera and ballet.
By joining the Young Patrons Circle, you're helping us shape the direction and the future of Dutch National Opera & Ballet. You don't need to be musically talented or light on your feet; all you need is a love for opera and ballet, and a sense of philanthropic commitment.
The Young Patrons Circle welcomes everybody under the age of 40. We look forward to meeting you!
Come and experience opera and ballet magic
What do you support?
Young Patrons support our entire house. Your donation is equally divided between opera and ballet projects. Donations of the Young Patrons Circle support projects by young talents specifically. This way, young professionals working outside our theatre, support young professionals working inside our theatre.
The Dutch National Opera Studio is a program for young artists, which offers six young singers extensive musical, language and vocal coaching by leading international voice teachers and conductors. The artists will participate in main stage productions, as well as in Opera Studio performances, in which they work with some of the finest directors of this day and age.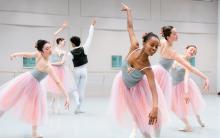 The Junior Company is the stepping stone for young dancers to make the leap from the Dutch National Ballet Academy to Dutch National Ballet. Every year, dancers from all over the world apply. The Junior dancers are given a daily program that mirrors that of the main company and will also be called upon to take the stage during main productions of Dutch National Ballet.
Different ways to contribute
Donations to Dutch National Opera & Ballet go to
Stichting Nationale Opera & Ballet Fonds
Rekeningnummer NL20 ABNA 0540179523
Meet some of our Young Patrons
"Not only do I often get to go to opera and ballet performances, I also get to meet so many new people; from dancers to singers, from directors to fellow Young Patrons. During these encounters, something beautiful often emerges. We learn from each other and we enrich each other's views and perspectives."
- Tim Oldeman