Dutch National Opera & Ballet aims to enrich the lives of as many people as possible with the wonder, beauty and meaning of opera and ballet. Our business partners help us in this mission.
Throughout the year, Dutch National Opera & Ballet creates, produces and presents top-quality productions. Almost everything, from sets and costumes, to wigs and special effects, is made in our own workshops in house. The combination of craftsmanship, top talent and advanced theatre technology has much in common with business issues and we therefore frequently facilitate exchanges of experience and knowledge. Looking at business issues with a creative eye creates new energy and inspiration.
As a sponsor / partner, your company helps National Opera & Ballet to continue to create, produce and present at the highest level. In turn, we contribute creatively to achieving your business objectives. Companies can connect with us in various ways: From main sponsor to sponsor, to partner of a specific production.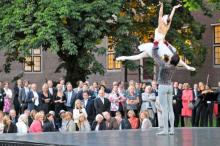 Dutch National Opera & Ballet offers various unique experiences. From private performances, guided tours and even an opera or ballet performance at your location!