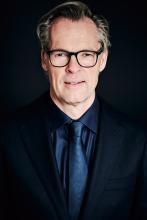 Stijn Schoonderwoerd
General director Dutch National Opera & Ballet
Stijn Schoonderwoerd (1966) studied General Economics at the Catholic University of Brabant and worked as a government finance inspector at the Ministry of Finance after that. In 1993, he made his transition to the cultural sector as Financial Manager of the Rotterdam Philharmonic Orchestra, a partner orchestra of Dutch National Opera.
From 1996 to 2008, Schoonderwoerd was associated with the Netherlands Philharmonic Orchestra/Netherlands Chamber Orchestra, the permanent orchestra of Dutch National Opera. During these years, first as deputy director and from 2000 as director, he was responsible for the increase of the orchestra's audience. Furthermore, the social and educational activities programme NedPho GO! was developed and launched under his direction.
This was followed by his appointment as managing director of Dutch National Ballet and The Amsterdam Music Theatre, both of which would later merge into the current Dutch National Opera & Ballet. During his directorship (2008-2012), he was involved in the integration process of Dutch National Ballet, Dutch National Opera and The Amsterdam Music Theatre. He was also contributed to the development of the children's fan club JUMP! and the Junior Company of the Dutch National Ballet.
From 2014 Schoonderwoerd occupied the position of managing director of the National Museum of World Cultures, the new museum resulting from the merger, under his leadership, of the Tropenmuseum, Museum Volkenkunde and the Afrika Museum. Since 2017, he has also been general director of Wereldmuseum Rotterdam.
Schoonderwoerd was also a member of the Advisory Council for Culture (OCW) (2009-2018), member of the board of the Dutch Association for the Performing Arts (2011-2012), member of the Supervisory Board of Japanmuseum Sieboldhuis (2012-2018), member of the Supervisory Board of Nederlands Fonds Podiumkunsten (2014-2018), chairman of Dansersfonds '79 (2014-2019) and member of the board of the Museum Association and Stichting Museumjaarkaart (2017-present).