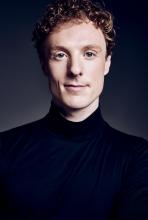 Photo: Sebastien Galtier
The Australian dancer Remi Wörtmeyer (Adelaide) joined Dutch National Ballet in 2010 as a grand sujet and was promoted to soloist the following year. In 2013, he was appointed principal dancer.
Remi trained at The Australian Ballet School and went on to dance with The Australian Ballet in Melbourne and with American Ballet Theatre in New York for a year. He won the Walter Burke Award in 2005 and silver at the 8th Asian Pacific International Ballet Competition in 2001. In 2013, he was honoured with the Alexandra Radius Prize. One year later, he received the Audience Award at the Dance Open Festival in St. Petersburg, and in 2016 he was elected Mr. Expressivity at the same festival. The British magazine Dance Europe mentioned him in 2017 and 2019 in its Critics' Choice, in the category 'Outstanding performance by a male dancer'.
In recent years, Remi has also developed as a choreographer. He choreographed Homebody and Morning Blossoms for ODD Continent and created several pas de deux that are regularly performed at international ballet galas. In 2018, his creation You Before Me premiered at Dutch National Ballet's annual gala. In the same year, he also choreographed a work for Ballet de Catalunya, inspired by the work of Piet Mondriaan. In June 2020, Remi created Safe Distance Ballet for a collaboration between Dutch National Ballet and G-Star RAW, with an eye-catching tutu measuring three metres in diameter, which was inspired by the one-and-a-half-metre society. Remi's other talents include painting, sculpting and designing (ballet) costumes, and he has already held several exhibitions.
At the end of the 2021/2022 season, Remi said farewell to the dance stage and went to work as an independent choreographer.
CV
With Dutch National Ballet since: 
2010 (retired from the dance stage in 2022)
---
Place of birth: 
Adelaide (Australia)
---
Career with Dutch National Ballet: 
Principal (2013), soloist (2011), grand sujet (2010)
---
Previously danced with:
The Australian Ballet (Melbourne, Australia), American Ballet Theatre (New York City, United States).
---
Awards:
2017 and 2019: Critics' Choice, Outstanding Performance by a Male Dancer

2016: Mr Expressivity, Dance Open Festival, St. Petersburg (Rusland)

2014: Public Award, Dance Open Festival, St. Petersburg (Russia)

2013: Alexandra Radius Award

2005: Walter Bourke Award (Australia)

2001: 8th Asian Pacific International Ballet Competition Tokio (Japan), 2nd
---