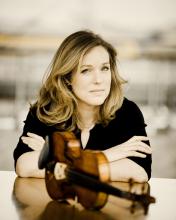 Photo: Marco Borggreve
Isabelle van Keulen
Violinist
Violinist Isabelle van Keulen made her breakthrough in 1984 by winning the Young Musician of the Year Competition. She attaches great value to her musical versatility, which is expressed, among other things, in the fact that she does not limit herself to the violin, but also plays the viola, leads chamber orchestras and performs chamber music in all forms and combinations. She has, for example, worked with the Dutch pianist Ronald Brautigem for over twenty years, performed with mezzo-soprano Christianne Stotijn and was a member of the Leopold String Trio. She also conducted the Norwegian Chamber Orchestra and in 1997 she founded a chamber music festival, the Delft Chamber Music Festival, of which she was the artistic director until 2006. In 2011, she founded her own Tango Nuevo ensemble, which was given the name Isabelle van Keulen Ensemble. 
Furthermore, Van Keulen has given several solo performances with orchestras such as the Royal Concertgebouw Orchestra, the Berlin Philharmonic Orchestra and NHK Tokyo. She also gave several masterclasses.
Besides the standard great works, Van Keulen's repertoire also includes works by contemporary composers written specially for her, including violin concertos by Theo Loevendie, Erkki-Sven tüür, Henri Dutilleux, John Adams and Brett Dean.
Violinist Isabelle van Keulen accompanies The Four Seasons, a choreography by David Dawson to music by Max Richter, during Dawson (from 8 to 16 December 2022).