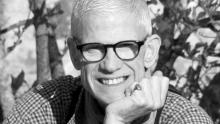 Sir Peter Jonas (73) passed away
It is with great sadness that we learn of the death of Sir Peter Jonas on 22 April 2020. As intendant of English National Opera (1985-1993) and the Bayerische Staatsoper München (1993-1996), Jonas played a crucial role in the European opera world of the 20th and 21st centuries.
At Dutch National Opera & Ballet, he was a valued member of the Supervisory Board from 2009 to 2018, and as such was involved in the merger of Het Muziektheater, Dutch National Opera and Dutch National Ballet.
Jonas was CEO of English National Opera from 1985 to 1993. Together with conductor Mark Elder and director David Pountney, he forged an opera house characterised by radical and dynamic interpretations of the classics and new works, with the highest musical standards. His artistic daring was great, and under his direction English National Opera grew into one of the most exciting opera houses in Europe.
From 1993 to 2006 Jonas was intendant of the Bayerische Staatsoper in Munich, the first British national ever to head a large German opera house. There, too, his programming was ambitious and daring. Under his leadership, some 90 new productions were created, one third of which were 20th and 21st century operas.
With Sir Peter Jonas, the opera world has lost a committed and visionary leader, who always stood for the relevance and power of the art form.