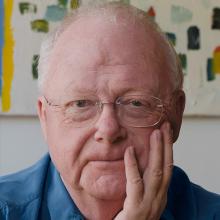 Francesca Patella
Composer Louis Andriessen (82) passed away
1 July 2021
Louis Andriessen, The Netherlands' most influential composer, has passed away at the age of 82.
Andriessen was born on 6 June 1939 in Utrecht as the youngest son of the renowned composer Hendrik Andriessen and studied at the Royal Conservatory in The Hague with Kees van Baaren and later in Italy with Luciano Berio. Partly due to his own, revolutionary style, Andriessen became a nationally and internationally celebrated composer. In the Netherlands, he was also known as a composer of smaller-scale work and music for theatre, ballet and film, and he was the central figure of what, since the 1980s, had come to be known as the Hague School.
Louis Andriessen's work also takes in an important place within Dutch National Opera & Ballet. Pierre Audi, director of the National Opera from 1988 to 2018, commissioned no fewer than five operas by Andriessen. His works De materie (1989), the much-discussed ROSA, a horse drama (1994, revival 1998), Writing to Vermeer (1999, revival 2004), La Commedia (2008) and Theatre of the World (2016) all had their world premieres at Dutch National Opera.
Furthermore, Hans van Manen, resident choreographer of Dutch National Ballet, has choreographed several works to Andriessen's compositions, including Symphonieën der Nederlanden, which was last performed by Dutch National Ballet in 2017 as part of the programme Ode aan de meester. In addition, Krzysztof Pastor and Krisztina de Châtel created two works to his music, as part of a special Andriessen programme which was performed by the Dutch National Ballet in 2003.
His last work May was a requiem for recorder player, conductor and Andriessen's close friend Frans Brüggen, based on the poem Mei (May) by Herman Gorter, and premiered in the Concertgebouw on 5 December 2020. The composer was already suffering from Alzheimer's at that time and was helped by his former pupil Martijn Padding in completing the orchestration.
With Louis Andriessen, we have lost a composer who played an unprecedented role in the Dutch and international music and opera world. Dutch National Opera & Ballet wishes his family and relatives every strength.