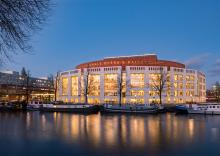 Photo: Ronald Tilleman
Access to our theatre during train cancellations
12 September 2022
NS and FNV reached an agreement on the collective labour agreement. This means that, for the time being, the strikes have been called off. Below you will find information on how to reach us if new strikes occur or if train traffic is disrupted for other reasons. 
Access to Dutch National Opera & Ballet during train cancellations
By bus
Most NS train stations in Amsterdam are accessible by bus as well. From the NS station, you can take the metro or tram to our theatre.
By car
If you choose to travel by car, cheap parking is available at P+R locations outside of the centre of Amsterdam. Click here to see a list of the available P+R locations. From there, you can take metro or tram to our theatre. It's also possible to park in one of the car parks close to Dutch National Opera & Ballet. But please note: these car parks fill up fast.
Please bear in mind the traffic in and around the city so that you arrive on time. Once the performance has started, no admittance can be granted. In the unfortunate case of this happening, you will be able to take your seat after the break.
Click here for more information about our accessibility and check in advance NS Reisplanner, 9292OV and GVB.nl, in case you want to use public transport when traveling to our theatre.