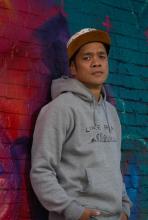 Gerris was educated at Antwerp's Herman Teirlinck Drama Institute, the Higher Institute for Dance Education and the Open Living Theatre (Antwerp). In the late nineties, he worked as a dancer, skater and actor. During this period he spent most of his time at the Vondelpark in Amsterdam, which inspired Gerris to create ISH.
Gerris also engages himself with other disciplines within the creative field: he was an actor in a soap, a television film and a cinema film, and he had the lead role in two dance films. Gerris was the director of one of these two films, Hyperscape, as well. He was a member of the jury of So You Think You Can Dance for two years and one season he was a member of the jury of The Freestyle Games.
Within the world of dance, Gerris also experiments with other forms: in 2011, ISH was part of Ernst Meisner's show Yes, we can dance. Meisner and Gerris collaborated again in 2014-2015 for Narnia: the Lion, the Witch and the Wardrobe. Together they developed concept and choreography. This spring (2018) will bring GRIMM, the third collaboration between Meisner and Gerris and between ISH and the Junior Company.