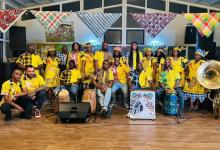 Mamyo Makandra
Music group
Mamyo Makandra is an initiative of poet and Spoken Word artist Dayenne Denneboom whose pseudonym is Mamyo Fu Mi Afo.
A mamyo is a blanket consisting of several pieces of fabric. The Mamyo was, among other things, used to convey messages. The word Makandra means together or communal. Dayenne Denneboom brings together various people with different talents to convey various messages in an artistic way. 
Mamyo Makandra performed during the Holland Festival in 2019 and last year on 1 July 2021 for the first time in Dutch National Opera & Ballet with Awidya and Daniëlle Fosch. One year later, they made their appearance again with the cultural formation Warimbo, led by Ali'jah Severin. This year, they return again to Dutch National Opera to commemorate the abolition of physical slavery on 1 July through singing and percussion. To kick off this year's Slavery Memorial Year, Dayenne Denneboom is partnering with the cultural formation: Wan firi led by Juriaan de Vlugt.
Last update: 1 June 2023