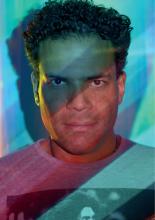 Multi-talent Jeffrey Spalburg is a comedian, actor, writer of columns and television programmes, MC and host.
After Acting School, Jeffrey started working as an actor with the theatre group Made In Da Shade, alongside his work as a freelance MC. This way, he combined his two great loves, theatre and hip-hop. The theatre group had a lot of success with their performances at home and abroad and is seen as the pioneer in the field of urban theatre in the Netherlands.
Because of his many years of experience, Jeffrey is also often asked as a writer, comedy coach and director nowadays. He became a regular writer for cabaret artist Jörgen Raymann. The song Hengelo-o-o from his show Baas became a huge hit. The remix of Hengelo-o-o, titled Paramaribo-o-o that he made with Kenny B, topped the charts in Surinam for eight weeks.
He is also a welcome guest in large music theatre productions, such as Swingin' Harlem, It's A Man's World and Crooners Night Club. In these productions, everything comes together. Thinking, writing and performing music and comedy in the theatre!
Last update: 7 June 2022