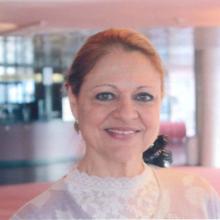 Jeanette Vondersaar
Staging and supervision The Green Tabel
Jeanette Vondersaar (1951) is a ballet mistress and ballet teacher. Since the death of Anna Markard, in 2010, she has been responsible for the supervision and staging of The Green Table at dance companies all over the world.
Vondersaar started her dance training with Jack Copeland at Butler University and went on to train at The School of American Ballet and Harkness House for Ballet Arts. She danced as a soloist with the Harkness Youth Dancers, Harkness Ballet and Ballett Zürich, before joining Dutch National Ballet as a soloist, in 1976. In 1977 she was promoted to principal dancer with the company. Throughout her career of 21 years with Dutch National Ballet, she danced main roles in various full-length classical productions and solo roles in contemporary works by leading choreographers such as Rudi van Dantzig, Toer van Schayk and Hans van Manen. For her achievements as a dancer, she was awarded the Alexandra Radius Prize  and the Golden Theatre Dance Prize. Vondersaar already started working as a teacher and rehearsal director in 1980, still during her dancing career. Since then, she has worked with various international companies and ballet academies in Europe, the United States and Asia. From 1994 to 1996, she also held the position of ballet mistress with Dutch National Ballet.
Nowadays, Vondersaar is mainly occupied with supervising and staging The Green Table. She also makes occasional stage appearances in character roles, in productions by Dutch National Ballet.