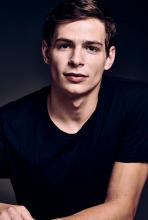 Photo: Sebastien Galtier
In 2019, Jakob Feyferlik (Vienna, Austria) performed as a guest principal at Dutch National Ballet's annual gala, partnering former principal Igone de Jongh in Hans van Manen's iconic duet Trois Gnossiennes. Subsequently, in December 2019, he also danced the role of the Prince in The Nutcracker and The Mouse King. Following these appearances, the young rising star in the international dance world joined the ranks of Dutch National Ballet in September 2020.
Jakob trained as a dancer at the ballet department of the Vienna Conservatory and at the ballet school of the Wiener Staatsoper. In 2013, he joined the Wiener Staatsballett, where in 2016 he was – very exceptionally – promoted straight from the corps de ballet to the rank of soloist. In February 2019, he was promoted to principal dancer following a performance of Rudolf Nureyev's Swan Lake.
His repertoire with the Wiener Staatsballett also included leading roles in Nureyev's productions of Nutcracker, Raymonda and Don Quixote, and in Peter Wright's acclaimed production of The Sleeping Beauty (also in the repertoire of Dutch National Ballet). He has also danced solo roles in works by Sir Frederick Ashton, George Balanchine, John Cranko, William Forsythe, Jiří Kylián, Kenneth MacMillan, John Neumeier and Jerome Robbins, among others. Partnering Maria Khoreva, he danced Van Manen's Trois Gnossiennes for the first time with the Wiener Staatsballett, rehearsed for the occasion by Igone de Jongh.
Jakob has been the recipient of a number of awards, including the prize of the 'Ballettclub' of the Wiener Staatsoper und Volksoper (2016), the Karl Musil Gedächtnispreis (2014) and the Premio Roma di Danza (second prize, 2012). In 2012, he also won third prize at the International Ballet Competition in Beijing.
In July 2023, during the Jacob's Pillow Dance Festival in Massachusetts, Jakob danced his last performance as a member of Dutch National Ballet. Starting the 2023/2024 season, he will continue his dance career with the Bayerisches Staatsballett in Munich.
CV
With Dutch National Ballet: 
2020-2023
---
Place of birth: 
Vienna
---
Career with Dutch National Ballet: 
principal (2020), guest principal (2019)
---
Training: 
Vienna Conservatory and Ballet Academy of the Vienna State Opera House.
---
Awards: 
2016: Sponsorship Award Ballett Club Wiener Staatsoper & Volksoper

2014: Karl Musil Memorial Award

2012: 2nd place Premio Roma Danza

2012: 3rd place International Ballet Competition Beijing, China
---