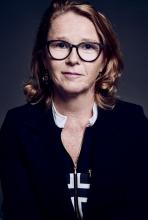 Els van der Plas (1960, Leiden) studied art history in Utrecht. In 1988, she founded the Gate Foundation, to encourage intercultural exchange in the field of modern and contemporary visual art.
From its inception in 1997, she led the Prince Claus Fund (as founder-director), which has since grown into a powerful international organisation for culture and development. She was one of the people responsible for the international Prince Claus Awards and has undertaken cultural projects in Baghdad, Beirut and Kinshasa. In 2003, she set up the Cultural Emergency Response fund, which saved the Baghdad Central Library after the American invasion, for example. In 2008, on her initiative, the organisation opened the Prince Claus Fund Gallery, which exhibits work by artists and activities supported by the Fund.
In January 2011, after working with the Prince Claus Fund for fourteen years, she was appointed director of Premsela, the Netherlands Institute for Design and Fashion, in Amsterdam. This was followed in August 2012 by her appointment as the general director of The Amsterdam Music Theatre, De Nederlandse Opera and Dutch National Ballet, which is now called Dutch National Opera & Ballet.
Els van der Plas was a member of the Supervisory Board of the Stedelijk Museum in Amsterdam (2004-2009) and the Supervisory Board of the Museum of Bags and Purses, as well as a member of the juries of the Curry Stone Design Prize in New York (2008) and the Princess Margriet Award (2011 – 2014). She is the Recommending Committee of the Holland Dance Festival (The Hague) and the What Design Can Do conference, in Amsterdam. She currently holds the position of chairman of the Johannes Vermeer Prize (since 2017), is a member of the Supervisory Board of Codarts and a member of the Advisory Council of NWO. 
Photo credits: Sebastien Galtier