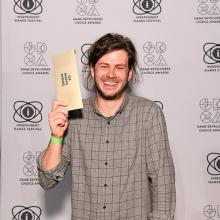 David Kanaga
Composer and game designer
David Kanaga is an American composer and game designer who is known for his interactive scores for computer games such as Proteus, Dyad and Panoramical. He has also written essays for his own blog Wombflash Forest and the recent Oxford Handbook of Algorithmic Music, in which he takes a philosophical look at computer games and their significance for a wider (art) audience. His music has been described as 'otherworldly, eclectic and important' and appears on labels including Orange Milk, Noumenal Loom and Software Recording Co. which is run by musician and producer Daniel Lopatin (Oneohtrix Point Never).
In 2017, he created Oikospiel, Book I, a dog opera in the form of a computer game. It is the first part of a series of operas that is to culminate in a worldwide gaming festival, The Geospiel, at the turn of the century. For this work, he received the IGF (Independent Games Festival) Nuovo Award that same year. The second part premiered at the Holland Festival in 2018. Oikospiel Book II: Heat Cantata was a live-performed combination of video game and music theatre.
In 2021, in collaboration with Dutch National Opera and Holland Festival, he created Soft Valkyrie, a contemporary podcast version of Wagner's Die Walküre.  
CV