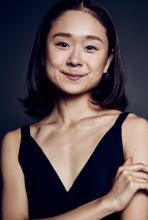 Photo: Sebastien Galtier
The Chinese dancer Jessica Xuan (Beijing) emigrated with her parents to Canada when she was five years old. As a child, she always wanted to be the best at everything; an attitude that served her well during her dance training at Canada's National Ballet School in Toronto and, subsequently, at the National Ballet Academy in Amsterdam.
In 2013, she was one of the first batch of dancers in Dutch National Ballet's Junior Company. In 2014, she joined Dutch National Ballet in the rank of élève, becoming a member of the corps de ballet a year later. After that, her career progressed quickly. She was promoted to coryphée in 2016, and to grand sujet in 2018, after her successful debut as Aurora in The Sleeping Beauty. The following year she was promoted to soloist, and immediately after her first performance of the title role in Giselle, in February 2020, artistic director Ted Brandsen promoted her and her dance partner in the ballet, Semyon Velichko, to the rank of principal dancer.
Jessica won the International Ballet Competition in Varna, Bulgaria, in 2018. This biennial ballet competition, in which some 150 dancers from 40 countries participate, is also known as the 'Olympiad of ballet'. The authoritative British magazine Dance Europe mentioned her in October 2020 in its annual Critics' Choice, in the category 'Outstanding performance by a female dancer'.
CV
With Dutch National Ballet since: 
2013
---
Place of birth: 
Beijing (China)
---
Career with Dutch National Ballet: 
Principal (2020), Soloist (2019), Grand sujet (2018), Coryphée (2016), Élève (2014), Junior Company (2013).
---
Training: 
Canada's National Ballet School (Toronto, Canada), National Ballet Academy (Amsterdam, the Netherlands).
---
Awards: 
2020: Critics' Choice, Outstanding Performance by a Female Dancer

2018: Winner International Ballet Competition in Varna, Bulgaria
---