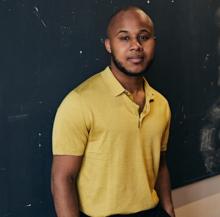 Dalton Jansen
Choreographer
Dancer and choreographer Dalton Jansen has won several awards in recent years with his choreographies. In 2017, he and The Double Collective won the Hip Hop Games: a large, international competition in France. In 2021, he founded his own dance company BLACK BIRDS and in the same year, he won several awards: the BNG Bank Dansprijs, Prijs van de Nederlandse Dansdagen Maastricht and the 2021 DOX Award.
Furthermore, he won, among others, the audience prize at talent show 'Het Rotterdams Open Podium' in 2014. A year later, he won the audience prize and the jury prize at the Rotterdam competition Fanatics for the piece 'The Double' (in collaboration with Gihan Koster and Terencio Douw). He has also won 1st prize at the choreography competition Amsterdans three times in a row.
Dalton graduated from the Urban Contemporary (JMD) programme at the Academy for Theatre and Dance in Amsterdam. Dalton is also the owner of DDJ Dance, a company that offers workshops throughout the Netherlands with national and international dance teachers. Dalton is also engaged as a teacher at numerous dance schools and as a choreographer at urban contemporary dance workshops.
Last update: 1 June 2023