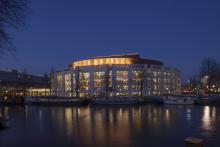 Corona update
Update 17-02-2022
The majority of our current COVID-19 restrictions will be lifted on Friday 18 February, as announced in the press conference on Tuesday 15 February.
This means our theatre will be returning to full capacity on Friday 18 February, as social distancing (maintaining a distance of 1.5 metres between parties) will no longer be required then.
Visitors will still be required to show their COVID pass upon entering our building up to Friday 25 February. They will also be required to wear a face mask when not seated in the theatre. These remaining restrictions will be lifted after 25 February.
CORONA UPDATE 26-01-2022
In yesterday's press conference, the government announced that, as part of the lifting of some of the current COVID-19 measures, theatres and concert halls will be allowed to reopen from Wednesday 26 January under certain conditions. These conditions include that we, as a theatre, are allowed to receive a maximum number of visitors corresponding to about 1/3 of our maximum capacity. This requires a great deal of adjustment for the productions of Dutch National Opera and Dutch National Ballet. Nevertheless, we want to continue to offer art and culture, especially in these difficult times. We are, therefore, very happy that in the upcoming weeks we can offer you, our visitors, the following wonderful programme:
The opera production Salome, which was cancelled earlier due to restrictions, will be performed as a concert on 6 February at 14:00 and on 12 and 14 February at 19:30. Ticket sales for this performance will start on Tuesday 1 February at 12:00.

Despite the limited seating capacity, the performances that are part of the Opera Forward Festival, which will take place from 5 to 13 March, will go ahead as planned. This concerns the performances Eurydice - Die liebenden, blind, Denis & Katya, I have missed you forever and O|A|E.Eurydice - Die liebenden, blind is already on sale. Ticket sales for the other three productions and the rest of the festival programme will start on Tuesday 1 February at 12:00.

Dutch National Ballet's programme Made in Amsterdam, which had previously been cancelled due to the postponing of Raymonda, will also go ahead as planned. Alongside the two scheduled world premieres by Wubkje Kuindersma and Sedrig Verwoert, we are presenting a reprise of Voorbij Gegaan, an intimate and renowned masterpiece by Rudi van Dantzig. Each of these works has been created by Dutch makers. The performance will premiere on 20 February and will be performed six times in total. Ticket sales start on Friday 28 January at 12:00.

Raymonda, our own brand new production of Marius Petipa's legendary ballet, was previously rescheduled for April this year and sales were halted due to the lockdown and unclear prospects. This sale has been resumed immediately.
We cannot wait to welcome you back to our theatre!
Frequently asked questions COVID-19 restrictions
On our page with frequently asked questions, you will find the answers to the most common questions on how we enforce the current COVID-19 restrictions in our theatre.